Persona
Persona as brilliant chamber opera.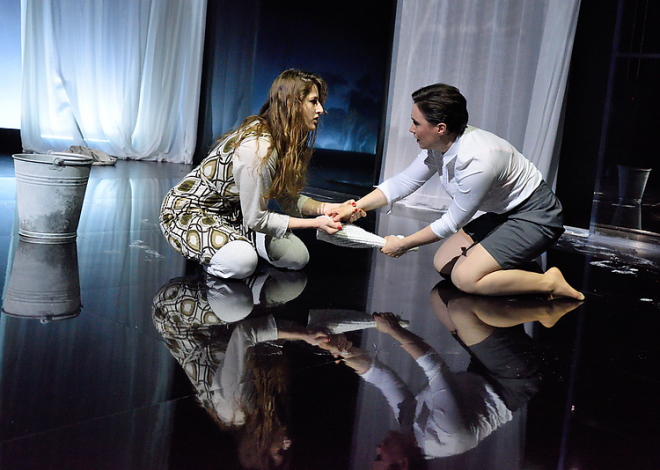 Persona as brilliant chamber opera.
Langemann goes far beyond a late Romantic sound aesthetic: The sounds of nature, like the waves of the sea or the wind are instrumental and so well integrated as to blur the boundaries between the ''natural'' and the ''artificial'' sound of opera.

- Christa Habicht (Die Welt)
About the production
When Russian-German composer Michael Langemann, with librettist Kerstin Schüssler-Bach, makes opera out of Bergman's perhaps most cinematic of films, something new, unexpected and marvellous appears.
Elisabeth is now a singer rather than actress, and thus has fallen silent in Strauss' opera Elektra (rather than Sophocles' play) when the story begins. (Another, smaller change is that the doctor has shifted gender and voice to a deep bass.)
As in the film, Elisabeth doesn't speak, but she is far from mute! During the couples' cozy cuddling she is humming (more loudly than she does in the movie), and during the terrible rows she emits sounds, able to communicate her rage and fear while also being beautiful music.

It is, in a word, a brilliant adaptation, deserving a long life on the world's opera stages.
Collaborators
Ingmar Bergman

, Original text

Kerstin Schüssler-Bach

, Libretto

Michael Langemann

, Composer

Petra Müller

, Director

Heinrich Tröger von Allwörden

, Set design

Erika Eilmes

, Costume

Ida Aldrian

, Alma

Anat Edri

, Elisabet Vogler

Daniel Todd

, Mr Vogler

Stanislav Sergeev

, The doctor

Philarmoniker Hamburg