Persona
Theatre Works, St Kilda, Australia.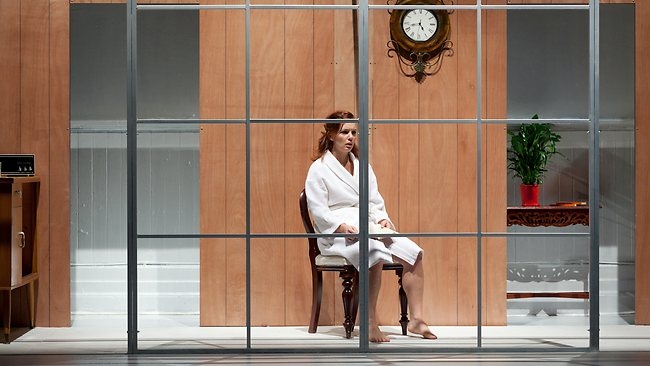 Theatre Works, St Kilda, Australia.
'Detached from the upheaval of the mid 1960s and stripped of Ingmar Bergman's ostentatious visual tricks, the screenplay of Persona is as intriguing as a Strindberg psychodrama.'
About the production
One short review concluded:
There's a Jenny Kemp-like sensuality in the staging and remarkable focus in the acting. From the limpid translation to Dayna Morrissey's multiple framings of the action, this is a piece with no obvious flaw.
The Herald found it risky trying to adapt Ingmar Bergman's bleak Swedish movie, Persona, for the theatre but Adena Jacobs' production has some success. Giving the play three and a half stars (out of five), the reviewer ends her review:
Some of the mysterious, nightmarish quality and psychological complexity of the film is lacking and the opening scene with the boy is superfluous, but both women are compelling as these grim, dysfunctional characters.

The final scene is a revelation in what amounts to an intimate, psychological drama.
Sources
Chris Boyd, 'The sounds of silence', The Australian, 22 May, 2012.
Kate Herbert, 'Review: Persona, Theatre Works', Herald Sun, 22 May, 2012.
Collaborators
Ingmar Bergman

, Text

Keith Bradfield

, Translation

Adena Jacobs

, Director

Dayna Morrissey

, Set design

Danny Pettingill

, Lighting

Karen Sibbing

, Elisabet

Meredith Penman

, Alma