Persona
Comeback for Bergman at the Residenztheater!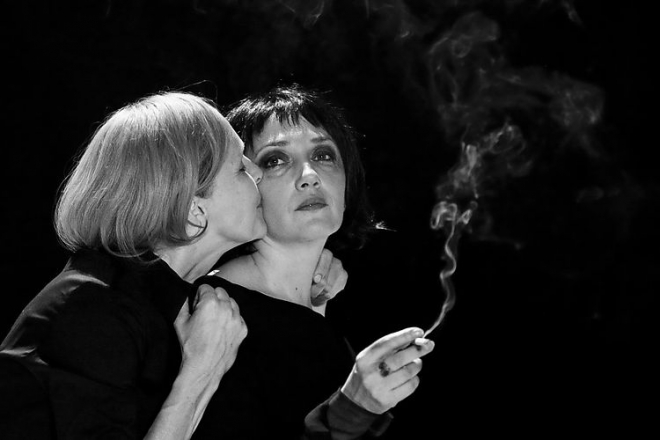 Comeback for Bergman at the Residenztheater!
"A gripping, psychologichal chamber play. Magnificent."

Rosemarie Bölts, Kultur Heute
About the production
A co-production between the Residenztheater and Israeli national theatre Habima, the play was first performed in German in Munich; then in Hebrew in Tel Aviv (the actresses speaking both languages – though hardly necessary for the part of Elisabeth ...).
Perhaps the reviewer of the Süddeutsche Zeitung had recently seen the film, with its relentless close-ups. At any rate, he paid extra attention to the faces of the actresses: Köhler's face can open up in an instant, "as if you were walking from a narrow valley into a wide open landscape." And Dodina has a beautiful, old-fashioned (!) face from which pain and agony "is coming out as loud, but unheard screams."
Radio show "Culture Today" called the play gripping and magnificent, and praised Niermeyer's ability to, "as it were, change the dynamics of the material from 1966 into a more contemporary emancipatory dimension", rendering the play not only existential, but plausible.
K. Erik Franzen of the Frankfurter Rundschau dubbed a prop, design classic radio/grammophone Braun SK4, the "secret star" of the evening.
[[nid:21858; styleName:teaser; styleName:teaser; styleName:teaser; styleName:teaser]]
"Just who is reading which role here?"´, Franzen asks himself. "Who links into whom?" And concludes:
From a film about film to a theatre play about theatre: this wonderful accentuation turns the performance into an electrified experience.
Sources
Rosemarie Bölts, "Kultur Heute", Deutschlandfunk, 22 July, 2012.
Egbert Tholl, Süddeutsche Zeitung, 23 July, 2012.
K. Erik Franzen, Frankfurter Rundschau, 23 July, 2012.
Collaborators
Ingmar Bergman

, Text

Renate Bleibtreu

, Translation

Amélie Niermeyer

, Director

Alexander Müller-Elmau

, Set design

Kirsten Dephoff

, Costume

Fabian Kalker

, Music

Gerrit Jurda

, Light

Meike Ebert

, Video

Sebastian Huber

, Dramaturg

Evgenya Dodina

, Elisabeth Vogler

Juliane Köhler

, Alma

Götz Schulte

, The husband

Anouk Barakat

, The child