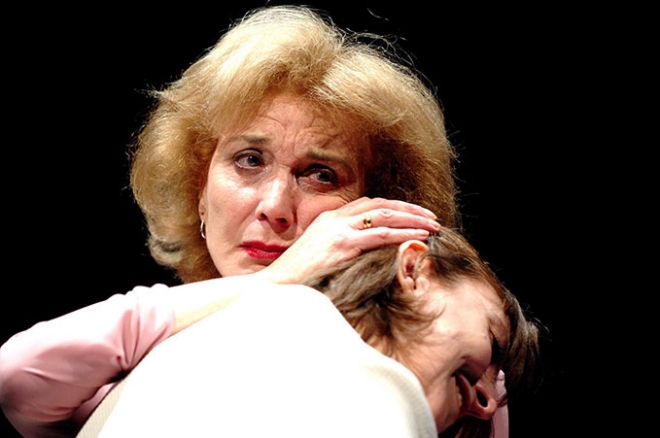 Text
Boni Ortiz in La Voz de Asturias writes under the headline "risky and praiseworthy" that Paledes, from the first moment she appears on stage, is brilliant in the part of Charlotte Andergast. She continues: "Apart from the magnificent role interpretations, with some extraordinary poignant dialogues between Marisa Paredes and Nuria Gallardo, the performance rules under José Carlos Plaza's remarkable direction."
Alfonso Arribas in Norte Castilla was more doubtful towards the production: "Marisa Paredes contributes with presence and class, but fails in leading her public figure beyond the cliché. Nuria Gallardo, with whom she shares minutes and possession of leading part, receives the greater applause in her efforts to express torment, but in fact her interpretation lacks something of pause and containment." 
Instead Arribas pointed out the technical aspects of the performance: "The most outstanding aspects are the stage scenery and the lighting. Both tasks combine plasticity and narrative capacity and are both imaginative and practical."
Joaquín Fuertes' review for La Voz de Avilés was partly concentrating on Bergman's artistry in general: "In fact, to understand what Ingmar Bergman says is not so difficult: all we need is to forget about old metaphysics and look into ourselves, with a naked mind, as when waking up from a dream. The fastenings of the past granted him the prize of Catholic Office in the Valladolid Film Festival for The Virgin Spring. What the film raises is the denunciation of an atheist, like Bergman, tortured by the religion of his ancestors, ready to fight against the frauds; and all that from the prism of a Nordic culture that we did not manage to understand then, but which now appears much more close to us."
He continued by praising the director of the play: "Jose Antonio Plaza, whose name already is enough for respect, has helped us discover that Ingmar Bergman is a universe of theatre, which sometimes showed to us like an engraving in the cinema, ready for the living to return from the screens. There's nothing more to say than that the fans to the theatre in Avilés have been blessed with a fortune, in one cold night, by the persistence of Jose Carlos Plaza to revive a myth, and Marisa Paredes and Nuria Gallardo, shrinking the hearts with their skilful interpretation. By all means, without forgetting Chema Muñoz and Pilar Gil, and all who have contributed to this assembly, which is going to be unforgettable; cultured springs in a beautiful night of theatre."
In La Nueva España also Saúl Fernández paid attention to the contribution of Pilar Gil in the part of Victor: "The newcomer Pilar Gil was on stage just for some minutes, but managed to present an extraordinary, insuperable creation, of the highest level."
Sources
Alfonso Arribas, Norte Castilla, April 9, 2008
Saúl Fernández, La Nueva España, April 10, 2008
Joaquín Fuertes, La Voz de Avilés, April 9, 2008
Boni Ortiz, La Voz de Asturias, 9 April, 2008
Collaborators
José Carlos Plaza

, Director

Manuel Calzada

, Adaptation

Paco Leal

, Designer

Sibyla

, Costume design

Val Barreto

, Costume design

Óscar Sáinz

, Lighting design

Mariano Díaz

, Music

David Sueiro

, Graphic designer

David Ruano

, Stills photographer

Odéon Decorados

, Master carpenter

Luis F. Dos Santos

, Costume manager

Ricardo del Val

, Lightning technician

Alfonso Jiménez

, Make-up man

Arsenio Fernández

, Sound technician

Sara Quijada

, Make-up and wigs

Leo Granulles

, Master carpenter

Jesús Cimarro

, Producer

Marisa Paredes

, Charlotte

Nuria Gallardo

, Eva

Chema Munoz

, Helena

Pilar Gil

, Victor