Nora
Nora has it all. Or so she thought.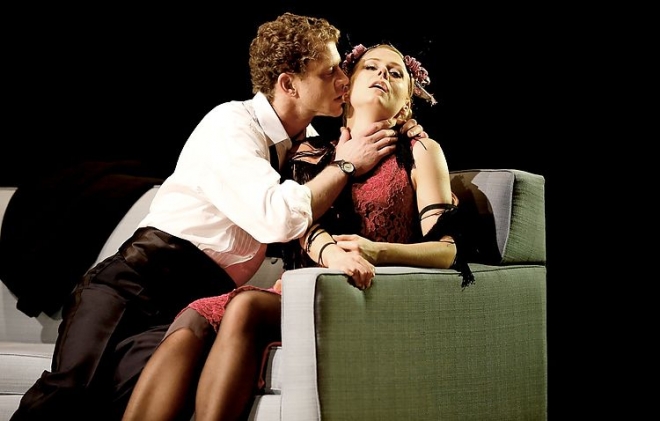 Nora has it all. Or so she thought.
"Bergman adapted A Doll's House so definitively that Ibsen could have learned a lot about writing for the theatre."
Om uppsättningen
As the playhouse puts it themselves:
Nora has the perfect life, a happy home, and a healthy marriage. But when a mysterious man from her past appears, her idyllic world is suddenly turned upside down. A story of love, blackmail, and the little lies we tell, Nora is a sexy and stunning adaptation of one of Ibsen's most psychologically penetrating works.
Having noted that in the history of theatre, many plays seem perfectly adjustable to a new time: Antigone, Hamlet, Death of a Salesman, and, not least, A Doll's House. But Kennedy's and Robinson's update of the play to some sort of timeless fifties-era, rather than the late 19th century of the original, makes the drama unclear:
The bipolarity of the production -- lack of consistent vision -- is no more evident than in its final moments. There is no door-slamming by Nora. No, rather, there is a coup de theatre that suggests more than the play delivers, a visual metaphor that simply does not ring true, not if we have a Torvald of the 1870s or even the 1950s ... or even the '80s. We are supposed to accept that Torvald has learned a lesson that strips away his masculine superiority and, by implication, a society's paternalism is laid bare. But we don't. We have a Torvald lost in space and time, as is this production.
On the contrary, the New York Times thought, and began their review with the question why some plays are always being stripped down, only to conclude that this one got it right:
The production looks magnificent. Kristen Robinson's set puts Nora Helmer and her husband, Torvald, not in a fussy or formal 19th-century parlor, as we so often find them, but in a stark, contemporary Scandinavian living room. The neutral back wall is distinguished by a graphic slash of darkness, suggesting 50-foot ceilings and a suicide-provoking alienation born of too many sunless winters. A few pieces of simple furniture and a densely, ornately decorated Christmas tree in an upstage corner complete the picture.
And the ending, which simply did not ring true to the Westport News, was to this reviewer refreshing in its unusual focus on Torvald, rather than Nora:
The ending, on the other hand, is inspired and heart-rending. Beginning 135 years ago, when Norwegian theatergoers were first shocked by Ibsen's story, few audience members have been likely to feel sorry for Torvald. Speculation about events after the play's ending almost always focuses on Nora, who exits with what has been called the door slam heard around the world. Mr. Kennedy's daring choice and the cruel play of lighting (by Matthew Richards) that accompanies it consider the husband's terror and prove that stage nudity can still be shocking, in a profoundly emotional way.
Sources
Geary Danihy, "'Nora' adrift in time and place is no 'Doll'", Westport News, 20 July, 2014.
Anita Gates, "A Stripped-Down Domestic Drama", New York Times, 25 July, 2014.
Collaborators
Henrik Ibsen

, Text

Ingmar Bergman

, Adaptation

Frederick J. Marker and Lise-Lone Marker

, Translation

David Kennedy

, Director

Michael Rossmy

, Choreography

Kristen Robinson

, Set design

Katherine Roth

, Costume

Matthew Richards

, Light

Fitz Patton

, Sound and original music

Liv Rooth

, Nora

Lucas Hall

, Torvald Helmer

Shawn Fagan

, Nils Krogstad

Stephanie Janssen

, Mrs Linde

LeRoy McClain

, Dr. Rank