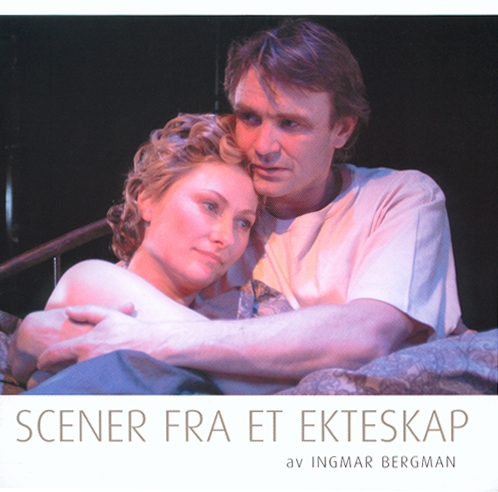 'Thanks to Director Kiønig and a strong cast, the theatrical staging of this TV drama was exceptionally successful.'

Astrid Slettbakk, Verdens Gang
About the performance
Lasse Kolsrud was praised for creating a sharp-tongued male character verging on the edge of brutality, whilst maintaining a visible vulnerability. Kjersti Elvik, who played the part of Marianne, was described as 'tough and direct in her increasing honesty and insight, but also less sure, more vulnerable beneath the surface'.
Sources
Andreas Wiese, Dagbladet, 3rd of February 2005.
Astrid Slettbakk, Verdens Gang, 3rd of February 2005.
Collaborators
Ingmar Bergman

, Author

Tine Thomassen

, Adaptation

Ole Lillo-Stenberg

, Stage manager

Hans-Åke Sjoquist

, Lighting design

Knut Solhaug

, Producer

Carl Jorgen Kionig

, Director

Kåre Nesstrand

, Master carpenter

Milja Salovaara

, Designer

Igunn Five Gjerde

, Prompter

Kjersti Elvik
Lasse Kolsrud
Tina Hartvig
Sigrun Enge
Mathias Calmeyer