Szenen einer Ehe
Unusually physical German scenes proved to be great success.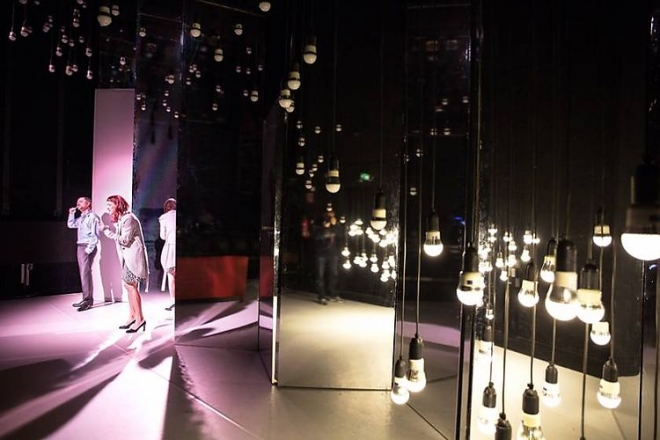 Unusually physical German scenes proved to be great success.
"At the end of 'Scenes From a Marriage,' the audience is beside themselves. Applause, cheers and rythmical clapping, enthusiasm in all rows for ten liberating minutes."

Roland Müller, Stuttgarter Zeitung
About the production
One would not think, perhaps, that it would be possible to do such markedly physical theatre out of Bergman's subtle drama. But if someone could, it would be the Germans. And how! Astrid Meyerfeldt's Marianne climbs and rushes up and down the set design, does pull-ups and crunches. Marriage as crossfit-session. That Meyerfeldt has her background in Berlin's Volksbühne, famous for their expressive and physically challenging producitions since Frank Castorf took over in 1992, comes as no surprise.
Joachim Krón (known from films by Tom Tykwer and Wim Wenders, and to a German audience not least for his appearance in long-run television show Tatort) may look a little more restrained, but can obviously climb too, and, as he proves towards the end, sing Tom Waits-style. They are both remarkable.
The reviews were raving. Under the headline 'Virtuoso combat', Stuttgarter Zeitung called the performance 'spotless' and expected it to sell out (which it did). The director Jan Bosse (no relation to Strindberg's wife, as far as we know), had given the Stuttgart audience a 'gift' with his 'smart, moving, humorous and painful' staging. The actors' performances were, according to the reviewer, done 'with an intensity as if all fibres and nerves of their bodies were electrified.'
Die Welt appreciated how the production highlighted the comedy of the play, making it clear that 'not only Woody Allen wanted to be the Ingmar Bergman of America – but also how in Ingmar Bergman there is a Woody Allen hidden.' Stuttgarter Nachrichten noted the 'powerful imagery' of the show, and, as most others, pointed out the brilliant actors. As for example Frankfurter Allgemeine, who thought that the 'wonderful actors' in Bosse's direction make a break with the relation debate from the seventies and Bergman's 'selftearingrituals' with clean, simple humour and irony.
Süddeutsche Zeitung referred to the performance as 'theatre happiness' and a 'triumph' for the Schauspielhaus and their new head Armin Petras. The correspondent also noted Moritz Müller's 'grandiose set design'. Schwäbische Zeitung, lastly, was in agreement with most of the above but also pointed out Kathrin Plath's congenial costume design: the seventies feel of the original was intact, but Liv Ullmann's Marimekko nightgown had been changed for German Trevira clothing (with their old slogan 'tragen, waschen, tragen' – wear, wash, wear).
In sum, the Stuttgart version of Scenes From a Marriage can only be described as an utter success.
Sources
Roland Müller, "Virtuose Kämpfe", Stuttgarter Zeitung, 28 October 2013.
Matthias Heine, "Hier kommt der Urgötz mit der Biowaffe", Die Welt, 28 October 2013.
Nicole Golombek, "Macht kaputt, was euch kaputt macht", Stuttgarter Nachrichten, 28 October 2013.
Martin Halter, "Nim das, alter Schwabe", Frankfurter Allgemeine Zeitung, 28 October 2013.
Christine Dossel, Süddeutsche Zeitung, 29 October 2013.
Barbara Miller, "Das Publikum ist aus dem Häuschen", Schwäbische Zeitung, 25 October 2013.
Collaborators
Ingmar Bergman

, Author

Renate Bleibtreu

, Translation

Jan Bosse

, Director

Moritz Müller

, Set design

Kathrin Plath

, Costume

Arno Kraehahn

, Music

Rebecca Riedel and Mieke Ulfig

, Video

Kevin Sock

, Light

Gabriella Bußacker

, Dramaturg

Joachim Król

, Johan

Astrid Meyerfeldt

, Marianne

Lisa och Lea Engfer

, The daughters (on video)