The Year of Bergman is off with a bang…
The 2018 Bergman Jubilee has passed its quarter point, with results far exceeding initial expectations. Events have kicked off to a wonderful start both in Sweden and abroad. A few first-quarter highlights: countless film screenings have been held across the globe for large audiences, with stellar reviews. Exhibitions have been lauded by visitors and the press alike. Fanny and Alexander was very well-received at a London theatre. Bergman the writer has finally had his big breakthrough...
'Extensive planning has been underway for a long while leading up to the 2018 Year of Bergman, when Ingmar Bergman would have turned 100. As we sit down to write our quarterly report (Uh-hum), we can share the news that our efforts have far surpassed our expectations. With an air both cheeky and nervous, we initially predicted this would be the world's largest-ever jubilee of a single filmmaker. And so it is proving to be!' stated Jan Holmberg, CEO of the Ingmar Bergman Foundation.

BERGMAN AT THE CINEMA
BFI (British Film Institute) Southbank has officially rounded off its Ingmar Bergman: A Definitive Film Season series. This large survey of Bergman's work, however, includes films such as The Seventh Seal (1957) and Persona (1966) being distributed to cinemas across Great Britain and Ireland. Little-seen film The Touch (1971) was re-released in British cinemas, and was received by critics as a forgotten masterpiece complete with flaws. 'A grown-up film for grown-ups,' according to The Guardian.
– The Ingmar Bergman retrospective certainly got the BFI's new year off to a flying start, exceeding all our expectations in terms of audience numbers at BFI Southbank, and bringing Bergman's work to a whole new generation of film lovers. The Swedish Film Institute's fantastic technical work on Bergman's catalogue has enabled audiences across the UK to see these films in the best possible condition in cinemas, on BFI blu-rays and BFI Player, declared Julie Pearce, Head of Distribution and Programme Operations at BFI.
'Bergmania' is in full swing on the British Isles, but no less apparent on the other side of the Atlantic. In New York, the highly-esteemed Film Forum in West Village screened 47 of Bergman's films, of which 30 had been recently restored by the Swedish Film Institute. Time Out called it the 'year's cinematic event', and according to Bruce Goldstein at Film Forum, the Bergman retrospective attracted their biggest audience numbers ever for a single filmmaker.
Many events are being held in Bergman's Swedish homeland. The Cinemateket in Stockholm is screening each one of Bergman's feature films throughout the year, one on every Wednesday. For the first time in many years, Bergman's fellow Swedes are showing incredible interest in his work. In Gothenburg, the same is happening on Sundays at Hagabion. SF is screening one Bergman film per month at select cinemas across Sweden. The April film of the month is Through a Glass Darkly (1961). A recent retrospective in Rome just came to a close, with every single screening (!) selling out. In Vienna, the Austrian Film Museum screened Bergman's entire filmic catalogue, and according to Die Presse, offered 'a cleansing acid bath for the soul'.
All told, 60,000 people have thus far attended Bergman film screenings at cinemas the glove over. Screenings continue to be held throughout the year in Tel Aviv, Singapore, Detroit, Helsinki, Beijing, Oslo, Montreal, Madrid, Moscow, Prague, Berlin, Washington DC, Hong Kong, Bogota, Taipei, Chicago, Paris, Toronto, Ljubljana, Geneva, Mexico City…

BERGMAN ON STAGE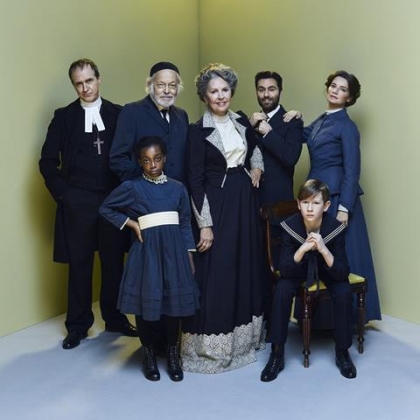 Fanny and Alexander premiered at the age-old Old Vic Theatre in London on 21 February. The performance has been very well-received. Penelope Wilton (Downton Abbey) is 'superb' as Helena Ekdahl, according to critics for The Independent, while The Observer declared that the performance 'bursts its way into your heart'. Swedish critics who attended the British performance were pleased. Lars Ring wrote in Swedish broadsheet Svenska Dagbladet that the performance 'impressed', while Johan Hilton called The Old Vic's staging 'wonderful'. 

FÖRFATTAREN BERGMAN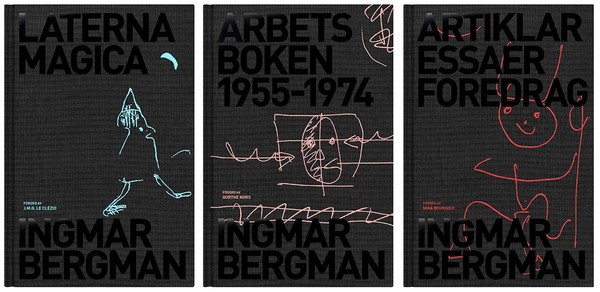 In Sweden, Norstedts kicked off the 2018 Jubilee by publishing a record number of Bergman publications, comprising six magnificent volumes of Bergman's own writings and 34 stories he wrote about his films. First to hit the market was the newly published Författaren Ingmar Bergman (Ingmar Bergman, the writer), penned by Jan Holmberg, CEO of the Ingmar Bergman Foundation, which received raving reviews. According to leading Swedish broadsheet Svenska Dagbladet, this book is 'a welcome, essential addition to the already rich collection of Bergman literature'. A few weeks later, a new edition of Laterna Magica with foreword by JMG Le Clézio, anthology Artiklar, essäer och föredrag (Articles, Essays and Lectures) and Arbetsboken 1955–1974 (Workbook 1955-1974) (1975–2001 due later this autumn) were all published. In Swedish Expressen, Martina Montelius referred to the writings in the latter publication as 'outstanding', adding that she learned more about life and art in Bergman's workbooks than she learned 'in anything else over at least the past seven years'. All publications are as of yet only available in Swedish.

OTHER BERGMAN EVENTS
In Stockholm, the exhibit Bergman's Costumes at the Hallwyl Museum, with accompanying lecture, welcomed great visitor numbers, while an exhibition and tour of Bergman locations is in full swing at Filmstaden Råsunda.
The Ingmar Bergman Foundation organised an exhibition based upon the story of how one of Bergman's most renowned works came about. Fanny and Alexander: 'A never-ending, whispering conversation' premiered at the BFI Southbank in London in January, and is now featured at the House of Sweden in Washington, DC, alongside the exhibition Bergman Moods by Nina Sandström and Magnus Länje. The exhibitions will subsequently travel to additional countries over the course of the year.
The Ingmar Bergman Foundation and the Swedish Royal Dramatic Theatre are co-producing Bergman: Monologues – a film series featuring actors as they interpret a number of Bergman's most infamous monologues. Three episodes – featuring Lena Endre, Elin Klinga and Reine Brynolfsson – have been released so far, with an additional nine in the works. Another series we at the Ingmar Bergman Foundation are producing is entitled Anecdotes, which involves people from Bergman's life, including Leif Zern, Christina Schollin and Stig Björkman, sharing personal stories of their time with Bergman.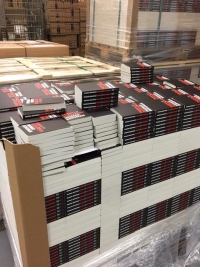 Nearly 60,000 books arriving fresh from the printers, a publication produced by the Ingmar Bergman Foundation along with Norstedts and LäroMedia. This special publication of Fanny and Alexander, complete with foreword by Swedish Minister of Culture and Democracy Alice Bah Kuhnke, will be distributed to students graduating from Swedish high schools in 2018. Around 400 schools across the country – from Kiruna in the north to Ystad in the south – will present the book to their students later this spring.
The Year of Bergman is just that – an entire year of celebrations, with events around the globe taking place throughout 2018 – with plenty left to anticipate and enjoy. Here in Sweden alone, we look forwards to the Bergman exhibition at the Swedish Museum of Performing Arts in Stockholm, Bergman Week on Fårö, the Bergman Festival at the Royal Dramatic Theatre and last but certainly not least, Ingmar Bergman's birthday on 14 July. More information on this and much more will be released over the coming months.
Visit our calendar for updated information, with new 2018 Year of Bergman global events added on a continuous basis.