Jelenetek egy házasságból
Second Hungarian production of Scenes from a Marriage was staged at one of the biggest theatres in Budapest. Johan and Marianne were played by married couple Károly Rékasi and Enikõ Détár.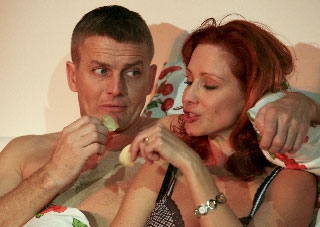 Jelenetek egy házasságból
Second Hungarian production of Scenes from a Marriage was staged at one of the biggest theatres in Budapest. Johan and Marianne were played by married couple Károly Rékasi and Enikõ Détár.
Interview with the director
The following interview with the director Monika Balatoni, was conducted in 14 March 2008 by the staff of ingmarbergman.se.
 
Tell us about your background
Working in and directing for theatre has been my calling since my teenage years. As soon as I earned a prerequisite undergraduate degree (in education), I applied to the University of Drama, Film and Television in Budapest. I graduated from the Department of Theatre Art in 1997, and signed on with the National Theatre. Later I became a member of Madach Theatre. I also continued to do a lot of freelance work for different theatres outside Budapest. During my years at the National Theatre I directed two plays at Szkene Theatre, Camus' Caligula and Barrie Keeffe's In the City. At Madach Theatre I usually have one or two productions every season. I used to do dramaturgy work and book editing, but nowadays I am focused on directing theatre and opera productions. I have also directed Osborne's Look Back in Anger and Shakespeare's A Midsummer Night's Dream.
Why Scenes from a Marriage?
I saw this play at the Pesti Theatre in Budapest when I was an undergraduate, but it didn't make a lasting impression on me at the time. Seeing the film much later, however, was a revelation. It inspired me to read the book as well. Since then I've been thinking about working on it as a director.

I was also learning more and more about certain walks of life, my experiences with the male-female relationship were maturing, and then I got the offer. An actor and an actress, themselves a married couple, asked me to suggest them a play they could perform and I would be interested in directing. I thought about this play immediately, for the roles are apt: the actors are about the same age as the characters. I took this to be a good omen. And I felt ready to engage in long analyses of the lines of the text. Although I didn't know for certain, I did suspect it would be a huge challenge. My approach wasn't lofty, I didn't look at this job as a mission. Nonetheless it saturated my life and monopolised my thoughts. We got going. Before rehearsals could start, I had to adapt the text, that took me almost two months. That's when my Calvary began, and it is with me still, every day: I decipher sentences, I stumble on new interpretations, possible solutions. I think this will remain the case for the run of the play…
Did it present any problems that Scenes from a Marriage was originally written for film?
During the adaptation process I felt it clearly that it was originally written for film. I often saw that the dialogues were lengthy and circling around the same subject, which is understandable but not favourable to the laws of theatre. In live genres like theatre, everything unfolds in front of the audience in a condensed, compressed form, all within three hours. Then and there, in an irrepeatable way. On stage it was imperative that the actors present in-depth flashes on the subject of relationship problems, yet the dialogues fit into a relatively narrow time frame. There are no opportunities for close-ups here. The scenes on stage must be composed differently from what can be done by the director during filming or post-production. As I was working with the text, I regularly had to decide what is at the centre of a scene. Bergman often uses a string of scenes to articulate a theme, a momentary dissection of relationships. Transitions between scenes are also easier and faster to present on film than on stage. No matter how quick and skilful the change between scenes, it can disrupt continuity for the audience. What's more, I can only rely on the limited tools of lighting to construct parallel frames. In short, one has to bear in mind that audiences treat space as one unit, a single frame. Any changes within that must happen live, they must have a specific time and place. The scenes had to be composed and interpreted in light of this even for the script. Compression was often required, and this is a rather sensitive and difficult task. Finding the expression, the balance where the theme can still unfold but the scene and the dialogue are tight and comprehensible.

Therefore I also composed new scenes. I worked with symbols in space that helped the precision and power of expression. I did not let the two main characters leave the stage. More precisely, no stranger was allowed to enter their world. It was a major challenge for the actors, for their performance lasts from the first moment of the play till the last, without breaks, which demands great concentration. I composed the changes and made them part of their life and marriage, so the audience truly gets an insight into the life of a married couple, and there are no disturbances with the shifts. The events on stage do not become alien for a moment, because they are an integral part of the performance. Solving this problem, figuring it out was one of the difficult aspects of our work, this was where I had to bridge the cinematic solutions.
Did you make any changes to the text?
I did. I edited the text according to the solutions mentioned above, I conflated sentences and in some places added new ones. The additions were of course true to the spirit of the author. It's also important to remember that the world has changed a lot since the 1970s, including changes in jargon, habits, the rhythm and character of life. And value systems. It was important to consider these in my work with the text.
How is your production different from the film?
It's hard to answer this question, because the form of expression, the 'language' is not the same, so I feel it is significantly different from the film in many cases. Different in its solutions and the adequate rhythm of the dialogues. There are scenes I did not use, the text of others I inserted in a different scene. In essence, to the extent that it's possible to articulate the similarities between two artists of different genders, ages and talents, it remained unchanged. Man, woman, marriage, the essence of marriage, the differences between the solutions used by the sexes, the ways of processing the failures of themselves and others, the struggles for possession, the eternal struggles for dominance, the explanations for what's missing… I could go on and on. These are present in the film as much as in the stage production.
Bergman's piece is a work one spends long years deciphering. Many times the solutions change during the performances, as we hit on new meanings, truths, associations.
What do you think is the central theme of the play? 
Let me answer this in two parts. One, what is the central theme of the play as text, the other, what is the central theme of the production. Of course, the two offer solutions full of similarities, but there's a fundamental difference. The difference is that I did not place such emphasis on the family as a central organising element, or the need to live up to parental norms. Instead I emphasised the way people are raised, this eternal and inescapable system of values, as well as the inescapable routes of escape that take shape in childhood. onsequently, it is a very important question when we are ourselves, and who we really are. What we are capable of doing for our happiness and our unhappiness.

This married couple, Johan and Marianne, goes through an almost spiritual process. It is a learning process through which they burn as if in purgatory, and continue with their life somehow transformed. They both want to live up to the expectations of their environment, their spouse, friends, workplace, but they don't pay much attention to themselves. They are lying to themselves and display masks to the outside world – as they do to each other.

Bergman articulates these issues precisely. He analyses, synthetises with almost psychological precision, and he remains human throughout, he doesn't forget for a moment that he is talking about an ordinary couple, not special people. Yet the effect is more complex. Everybody feels like the play is about or for him/herself, these moments, problems, and stage situations are familiar to all. I tried to create spaces on stage that are between reality and the world symbolised, to help the two people stay the focus of the performance. The central theme is humanity, men and women, their power struggles and the consequences. It is hard to summarise something so complex, I could go on for hours…
A married couple plays the leading roles. How did this affect the production?
The final outcome wasn't affected much, but the rehearsal process was formative for all of us. It was a gigantic struggle, with advantages and disadvantages. I had to be prepared to go through rehearsals not only as a director but almost a therapist too. It is very different to discuss and dissect with two actors male-female relationships, marriage, the failures of living together from discussing the same with a married couple. They couldn't settle the issues, shut down their thoughts at the end of a rehearsal, their whole days and nights were saturated with these for three months. The most difficult period for me was when reality blended into the play. When it was impossible to tell whether the actors were reciting their lines from the play or hurled implied meanings at each other. Rehearsals often ended in heated arguments. They had to be shifted from their 'civilian' existence, distanced from everyday life, and systematically forced to stick to their characters.
What do you think about the other works of Bergman?
I know his films, I've seen nearly all of them, and I have a big collection. I also read his writings that were published in Hungary. I like that world of suppression that opens up unknown paths with each rethinking and offers new solutions. They are difficult texts, but I love dissecting them. This was my first time directing a Bergman work, but I would love to start over and over again even with this play.

Is there another Bergman play you would like to work with?
I would enjoy working on Hour of the Wolf, or From the Life of the Marionettes, even Autumn Sonata would be interesting. I can imagine Hour of the Wolf on stage, even if he wrote it as a story for screen. Its world could be presented on stage in very interesting ways, to be experienced by audiences together with the characters there and that moment.
Would you like to work on one of Bergman's texts?
I recently finished reading Three Diaries. I would enjoy directing a radio play from this compilation, or even a stage production, similar to how Dear Liar was made based on G.B. Shaw's letters.It has poignant and astonishing ideas. I would be glad to take it on now.
Collaborators
Ingmar Bergman

, Author

Monika Balatoni

, Director

Károly Rékasi
Enikõ Détár