A Little Night Music
Under the title "A Little Late Night Music", The Musical Company of Stockholm performed choice parts of Stephen Sondheim's oeuvre.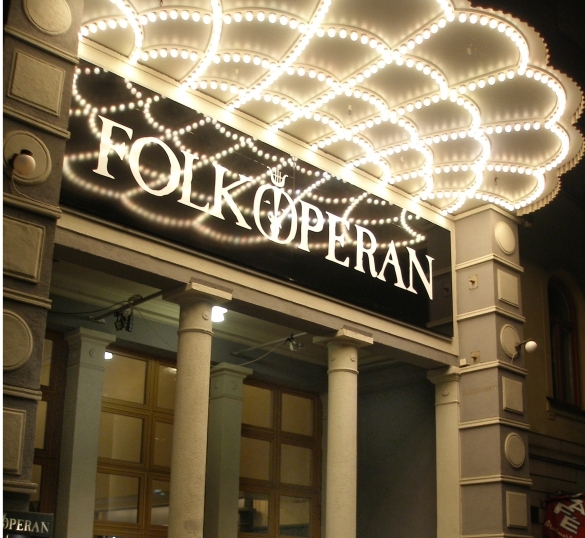 Under the title "A Little Late Night Music", The Musical Company of Stockholm performed choice parts of Stephen Sondheim's oeuvre.
About the play
A Little Night Music is a musical with music and lyrics by Stephen Sondheim and book by Hugh Wheeler. It is inspired by, and has borrowed its characters from Smiles of a Summer Night. Bergman himself is supposed to have hated it.
Fredrick Egerman, a widower, has remarried. His new wife, Anne, is 18. Even though they have been married for 11 months, she is still a virgin. Fredrick arrives home with theater tickets for the two of them to see 'the one and only' Désirée Armfeldt that evening.  As he lays down for an afternoon nap, Anne promises him that very soon they will consummate their marriage. With this in his mind, he drifts off to sleep where he has a very vivid dream, during which he utters a very emotional 'Désirée!' This shocks Anne, who glares at him. Désirée was once Fredrick's mistress. At the theater, Désirée immediately spots Fredrick in the crowd and performs directly to him. Anne rushes out of the theater, upset.  Fredrick takes her home and puts her to bed, then goes out for a walk. He winds up at the room of Désirée. They revive their old relationship and head off to the bedroom. Désirée's current lover, Count Carl-Magnus, interrupts the pair. They fumble for an excuse. The Count sends Fredrick away.  The Count returns to his wife, Charlotte, and tells her that she must inform Anne of her husband's infidelity. Charlotte goes.
Désirée heads to her mother's house in the country. She invites Fredrick and his family, in hopes of winning him back again. Anne informs Charlotte, and accepts the invitation. The Count and Charlotte go along as well.
The guests all sit for a tense dinner, which ends with Henrick, Fredrick's son, smashing his goblet in disgust. All the guests scatter throughout the house. Fredrick ends up in Désirée's room, where she tries to win him back, but he walks out, unable to bring himself to leave his new bride.
 
Anne scours the grounds for Henrick, who she finds rigging up a noose. She realizes that it is Henrick that she loves, not Fredrick, and decides to run off with him.  Fredrick, saddened by the loss of his bride to his son, finds comfort in the arms of Charlotte. The Count spots them together and challenges Fredrick to a duel.  They go off, a shot is heard, and the Count comes back carrying Fredrick. He has merely grazed his ear. The Count and Charlotte leave together, and Fredrick and Désirée finally realize they are meant to be together.
Cleveland Opera, 2007
Collaborators
Ingmar Bergman

, Original text

Hugh Wheeler

, Libretto

Stephen Sondheim

, Composer

Mikael Jöback

, Musician

Jonas Dominique

, Musician

Mikael Augustson

, Musician

Gunilla Backman
Rolf Christianson
Sharon Dyall
Annica Edstam
Ulricha Johnson
Jan Kyhle
Fredrik Lycke