Scenes from a Marriage
London press was impressed by adaptation, production and not least the performance of the actors.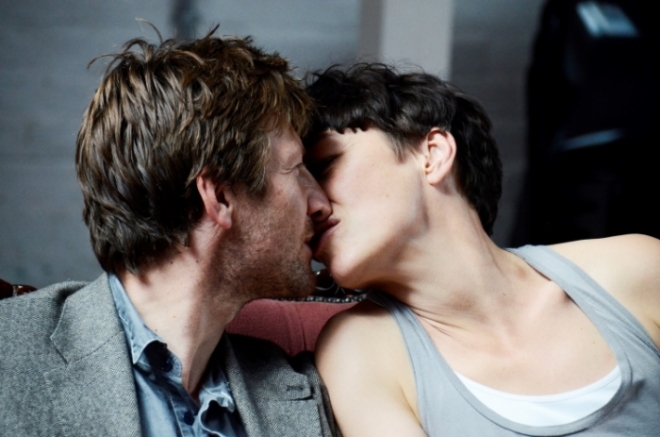 London press was impressed by adaptation, production and not least the performance of the actors.
"Warning: this is not a date play."
About the production
Sir Trevor Nunn staged the play in Joanna-Murray Smith's adaptation in Coventry 2009, then with another cast. The London opening was postponed a week due to illness, but was apparently worth waiting for.
According to The Telegraph, "Nunn's starkly elegant production maintains an exquisite emotional balance between the clinical and the human, punctuating scenes of alienation and distress with moments of sunny ordinariness – home video clips of children's birthdays, trips to the park, family holidays." And concludes that "Olivia Williams and Mark Bazeley are perfectly matched as Marianne and Johan, playing out the couple's ambiguous disintegration with luminous conviction."
The Independent singled out Bazely's "excellent" performance, and how he "nails the emotional evasiveness and narcissism of this attractive s**t whose cruelty and weakness are exposed in the devastating episode where he announces, out of the blue, that he's leaving for Paris with a 23 year old.  He sobs all over the dazed and reeling Marianne before asking her to cancel the dentist and pick up his suit from the drycleaners." And continues:
"Stealthily paced and sharply focused against the elegant, white-panelled set, the scenes are interspersed with photographs and home movie footage of the couple playing with their two young children – poignant reminders of the precious family life that is being sacrificed here. The physical abandon and brutality unleashed by the forces of attraction and repulsion after the split occasionally suggests a Private Lives [by Noël Coward] re-written by Strindberg, as does the final twist. I'm not sure that I believed in the latter. With the caveat that it may not provide the ideal fare for dating couples or for wedding anniversary treats, Nunn's production is to be strongly recommended."
Time Out claimed that although the play is forty years old, and "not least thanks to two powerful, compelling performances at the heart of Trevor Nunn's tightly choreographed production – it still asks provocative questions about happiness, monogamy, and each individual's jagged quest for emotional fulfilment.
Throughout it is nuanced and subtle – a disturbing pas de deux of divorce – where both parties try to dance round each other as responsibly as possible and yet still end up on the emotional dungheap.
As Marianne, a divorce lawyer, Olivia Williams is extraordinary – allowing her emotions to play themselves out to the full through her words and body language, every twitch and smile a subtext to what's just been said. And while Mark Bazeley's Johan has the hard task of going from cheerfully repellent arrogance to reprehensible self-pity, he never fails to make the audience utterly immersed in his predicament – the chemistry between him and Williams is pitch perfect.
Despite the abundance of family videos shown, the children rarely feel like anything more than a token issue. Yet this is a fascinating, compelling evening – couples go and see it if you dare."
Evening Standard, finally, repeated what everyone else seemed to agree upon: that the chemistry between the stars was strong and that the play "would be a high-risk choice for a date". Contrary to the others, though, they were less convinced about Bergman's drama in itself. As The Independent, the critic compared it to "Private Lives", but lacking the zest of Noël Coward (or, for that matter, the depth of Ibsen). Nevertheless, the mark, as that of almost all other reviews, was a strong four out of five.
Sources
Jane Shilling, "Scenes from a Marriage", The Telegraph, 25 september 2013.
Paul Taylor, "Scenes from a Marriage - 'A merciless dissection on the state of matrimony'", The Independent, 25 september, 2013
Rachel Halliburton, "Scenes from a Marriage", Time Out London, 25 september 2013.
Henry Hitchings, " Scenes from a Marriage", Evening Standard, 25 september 2013.
Robert Shore, "Scenes From A Marriage is a smart adaptation of Ingmar Bergman's harrowing drama", Metro, 25 september 2013.
Collaborators
Ingmar Bergman

, Text

Joanna Murray-Smith

, Adaptation

Trevor Nunn

, Director

Olivia Williams

, Marianne

Mark Bazeley

, Johan

Shane Attwool

, Peter/Arne

Aislinn Sands

, Katrina/Eva

Melanie Jessop

, Mrs. Palm/Mrs. Jacobi