Scenes from a Marriage
Well-deserved praise for Scenes from a Marriage, on a New York stage for the first time.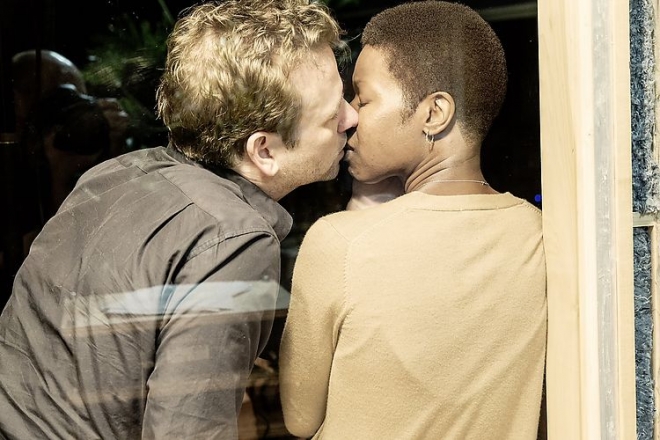 Well-deserved praise for Scenes from a Marriage, on a New York stage for the first time.
"This is the way we were, and the way we are, and the way we will be. And we are fools if we think we can separate any of these versions from the others."

Ben Brantley, New York Times
About the production
Situated in East Village (between the formerly infamous Bowery and Second Avenue), and noted for their stagings of contemporary drama, New York Theatre Workshop is off-Broadway in every possible sense.
When Ivo van Hove stages Scenes From a Marriage there, it marks his seventh production for the theatre, and his third staging of Bergman's play. His first time was already in 2005, with Amsterdam's Toneelgroup of which Mr. van Hove is artistic director. Six years later it was reinstalled, touring Europe in between. (Here him talk about his ten years with the play here.)
If not the first time for Ivo van Hove in New York, it still is his first Bergman play in the United States. (Otherwise, Mr. van Hove is the most prolific Bergman interpreter around; besides Scenes he received unison praise for his Cries and Whispers and his double feature of After the Reheasal / Persona.)
The salon was entirely rebuilt, doing away with the proscenium arch and moving all chairs.
The reason for this was Mr. van Hoves original conception of the play. Upon collecting his or her ticket, the patron also receives a paper wristband with one of three colours, indicating which way to go for the show. Because the stage, as well as the audience, is divided in three. When the show starts a scene from the marriage follows; which one depends on the colour of the wristband and hence where you're sitting. When, after some fortyfive minutes, the scene is finished, the audience is ushered into the next section where a new scene follows, this time with different actors. Followed by yet another shift.
The actor couples are all different age, and do not in anyway resemble one another. In one of the scenes, Johan and Marianne forms a middleaged couple with, obviously, their best time of their life together behind them. This is also the scene where Johan tells Marianne that he has met another. In the next scene (in the order I happened to see them), they are young and reasonably happy, not least compared to their friends Peter and Katrina, although the first chink in the armour begins to show. Next (again, as I was sitting), the scene where Marianne announces her pregnancy, her angst towards Johan's (lack of) reaction and her following abortion.
The walls between the scenes are thin enough to allow for lines behing heard from "other" Johans and Mariannes, like quarelling or lovemaking neighbours. In the centre, there is a small space with glass windows, through which what is going on in the other rooms is partly visible; this is also the space where the characters take their refuge to – as they often do – play music on a gramophone (only 70s hits by the way, of a kind one would think was dated into banality, but which here become utterly moving.
During the intermission, the scenery is rebuilt and upon return the audience is seated in a circle around the stage, where all the main actors are performing the same scene. Sometimes they will talk concurrently, sometimes allowing for a little time in between, so that we first hear an exchange of lines, and then the same lines repeated by others.
It is absolutely brilliant. The play is fantastic in its own right, and has been the subject for several wonderful stagings. But Ivo van Hove's version of the play bears witness to the fact that we are not merely the sum of our former selves; our identity is also formed by our fantasies and dreams of who we will become. WIth multiple Johans and Mariannes simultaneously present, Mr. van Hove actually charges Scenes From a Marriage with even more Bergman: the self as prey to the forces that control the eternal to and fro between several possible selves. As Baron van Merkens puts it in Hour of the Wolf: "There. Now you are yourself, yet not yourself. The ideal state for a romantic encounter."
Johan 3 (I'm using the numbering of the programme credits, neither assuming priority or chronology – since no one exists – but age) is played by Arliss Howard, who paints an astounding portrait of the middle-aged man, torn between senses of duty and fantasies of passion, all the while without caring too much about anyone but himself. Is the similarity in his appearence and gestures with Walter White a coincidence? (A similarity which, however, disappears as soon as he takes his shirt off; he then looks more like groundskeeper Willie of The Simpsons – Mr. Howard turns sixty this year but is ripped as a PT at the Dolphin Fitness Club two blocks away.)
When Marianne 1 (Susannah Flood) is crying – quite a lot, as a matter of fact – she does it with more credibility than if I would have been part of the quarrel, and her abortion scene was strong enough to make the woman sitting next to mean cry helplessly.. Peter's (Erin Gann) and Katrina's (Carmen Zilles) furious fight might not measure up entirely to Bibi Andersson's and Jan Malmsjö's legendary original, but is horrible nonetheless.
Another lingering scene and performance is when Mia Katigbak in the roloe of Mrs. Jacobi, who as the client of divorce lawyer Marianne renders her story of her loveless marriage. That the same actress also plays Marianne's mother in another scene, is as apt as it is beautiful.
The ending is often described as optimistic. Johan and Marianne have reconciled and found each other again, now as lovers on the run from their new marriages. That this interpretation is rather shallow, and completely disregards what their respective partner whom we do not get to meet would have to say, should have been fairly obvious already in Bergman's film. In Ivo van Hove's adaptation, everything ends, remarkably enough, with a dance. That it is not a question of a cheek-to-cheek partner dance but a solo performance, is rather telling.
Press Voices
This is the way we were, and the way we are, and the way we will be. And we are fools if we think we can separate any of these versions from the others.

...

As you listen to the first of many conversations between this play's uneasily and inextricably linked central characters, Johan and Marianne, you'll hear other voices — which are their voices, too — out of the corner of your ear. You start to realize that you're caught in an echo chamber where everything that's said is underscored by ghostly shouts and murmurs spoken in another time, another place, by these same people.

...

Because these spaces are back-to-back, with a shared common room (partly visible), voices from the other scenes subtly invade the one you're watching. The subliminal sensation is of a babble — or Babel — of people falling in and out of love, and out and in. Eventually, it starts to feel as if the whole thing were happening in your own memory, which — if it's like mine — is notorious for scrambling the individual chapters of life.

This palimpsest effect brings vibrantly new existence to a work that might have seemed to have passed its sell-by date. When it was seen four decades ago — first as a six-part television series, and later as an abridged film for theatrical release — "Scenes" touched a sensitive nerve in a Western world that was starting to rethink marriage as a sacred institution.

...

But, as an artist, Mr. Van Hove is an anatomist. He is famous for slicing into the skins of classics ranging from Moliere's "The Misanthrope" to Lillian Hellman's "The Little Foxes" to reveal their steaming, bloody interiors. (Up next: his take on Tony Kushner's "Angels in America," next month at the Brooklyn Academy of Music.) Such probing has usually involved dragging the subtext to the surface, in exaggeratedly stylized performances, with mixed results.

For "Scenes," the acting is wholly and intensely naturalistic, from performers who also include Erin Gann, Mia Katigbak, Emma Ramos and Carmen Zilles in supporting parts. The novelty lies in the multiple casting, with people who are physically dissimilar and who have not been encouraged to imitate one another.

This has the effect of universalizing Johan and Marianne, whose shared history is as mundane and fraught as that of any long-term relationship. But even more important, the multiple casting taps into the layers of feeling with which Johann and Marianne regard each other. Feelings were always strong in Bergman's films and stage productions, but they were never pure.

Much of his genius lay in his lucid awareness that emotions are inevitably mixed, with love and hate and apathy all vying for supremacy. And when the six performers playing Johan and Marianne share the stage in the second half of Mr. Van Hove's "Scenes," in which the three spaces have been consolidated into one after a half-hour interval, we're willing to accept their coexistence.

Their different readings of the same lines (and, yes, they sometimes talk concurrently) come to parallel the ways you replay moments from your life in your head, with different intonations and stresses. If this sounds confusing, it is so only in the way that life is. The complicated logistics throughout this three-hour production are so carefully realized that the exposition is always impeccably clear.
It's not a good play to bring your date to. Over a 20-year span, Marianne and her husband, Johan, find emotional honesty harder to sustain and pay a steep price — only to rekindle it once they've released themselves from marriage's demands. Physical attraction, too, fades into the background — a source of shame and pain not easily articulated. Family pressures weigh heavily on their psyches, until one spouse needs to break free to reclaim the person who got lost in a thicket of emotional obligations. Bergman's script (in Emily Mann's superb English version) is by turns harrowing, raw, and supersaturated with rich psychologies. The intimate dialogues are beautiful, compelling, and (at three and a half hours) occasionally tedious.

Van Hove's structure is the defining event here, and it's brilliant dramaturgy — the kind of bold and confident interpretive directing we rarely get to see in New York productions. The artistic director of Toneelgroep Amsterdam, van Hove uses theater's live spatial dimensions to express the temporalities Bergman evoked on film.

For the first half, the audience divides into three groups. Each watches a different scene from Johan and Marianne's marriage playing simultaneously in different rooms. When an episode ends, we move to the adjacent station, always aware of other scenes via upstage windows facing into a common space — a sort of hub-and-spoke system. The actors change, but the characters remain constant. That simple fact carries so much meaning here: Johan and Marianne are actually different people at these various points in their lifetime evolutions — and yet they're always the same fundamental characters, always changing and yet unchanged.

When we return for the second half, Jan Versweyveld's set raises to the rafters, merging the three spaces. The casts merge too, along with the three phases of Johan's and Marianne's lives we've witnessed. Now three Johans and three Mariannes engage in the same scene. Three different Johans stand behind the same exclamation; three Mariannes express their weariness on a wrenching evening anticipating divorce formalities. As we sit in the round, we're aware of each other for the first time, too: Society seems to be on display as much as the couple is. (The evening telescopes back to intimacy in the late scenes.)

In Holland, van Hove's permanent Toneelgroep ensemble has an elastic and committed physicality that fulfills the director's adventurous forms. This American cast can't always match it, despite standout performances by Rosyln Ruff and Tina Benko (as Marianne 2 and 3) and by Dallas Roberts (as Johan 2). The scenework feels underdeveloped or tentative in places, without being freely improvisatory, either. The best moments, however, such as Marianne's meltdown at having to go to her mother's for dinner, evoke her tender anguish with fragility, making you wonder how much fuller the piece might have grown with more development time. But as this production reminds us — sometimes devastatingly — time is always the culprit, forcing us to evaluate what we have and how closely we need to hold it.
Joe McGovern, Entertainment Weekly:
We've all overheard a couple of strangers getting into a loud argument. Especially in an apartment building—where the volume of the voices is directly proportion to the thickness of the walls—listening carries with it a sense of inappropriate curiosity and subsidiary dread. It's that feeling that's simulated in Scenes From a Marriage, playing until October 26 at New York Theatre Workshop (which has had its entire space temporarily reconstructed for the occasion).

...

The audience is split into three parts; each section watches each segment, then moves to the neighboring 60-seat space to catch the next. The noises from the adjacent scenes mix together, creating a wondrous disharmony. Someone screaming ''So you think it's my fault?'' from one portion can be heard behind walls in another. Exclamations of ''Stop!'' and ''Damnit!'' from somewhere else mix with light moments on a different stage. (He's not known for high comedy, but Bergman's dry, droll humor is preserved in this production.)

The performers bounce off each other like echoes as well. Roslyn Ruff and Dallas Roberts are touching as Marianne and Johan in the best and gentlest segment, in which a small thing like backing out of a family party means major consequences. Ruff, especially, is exquisite in her sense of calm, containing all of Marianne's neurosis about the past and the future in her tense carriage. Susannah Flood and Alex Hurt emotionally drain themselves as the couple in their youngest stage. Tina Benko and Arliss Howard, as the older pair, are the angriest and most sexually kinetic of the group, yet their tone feels slightly isolated by the characters' defeated sarcasm—which is not leavened by Benko over-pronouncing every line.

Scenes From a Marriage loses both its novelty as a theatrical experience and its dramatic power in the second act. The theater is reordered during a lengthy half-hour intermission; the final three scenes are presented in the round. When the divided spaces are taken away, so are the intimate texture and nervy excitement that came with them. But credit is due to the adventurous director Ivo van Hove (known for daring adaptations of The Little Foxes and Hedda Gabler at NYTW) and his heroic production designer Jan Versweyveld. They've created a daring piece of one-off drama that redefines the way things are done downtown.
Sources
Erik Piepenburg, "Behind 'Scenes From a Marriage'", New York Times, 18 September, 2014.
Ben Brantley, "A Marriage in Trouble, in Triplicate", New York Times, 22 September, 2014.
Joe McGovern, "Scenes From a Marriage", Entertainment Weekly, 23 September, 2014.
Tom Sellar, "Spouse Divided: Brace Yourself for a Devastating Stage Adaption of Scenes From a Marriage", Village Voice, 24 September, 2014.
Collaborators
Ingmar Bergman

, Author

Ivo van Hove

, Director

Emily Mann

, English adaptation

Jan Versweyveld

, Production design

Bart van den Eyende

, Dramaturgy

Terri K. Kohler

, Production Stage Manager

Alex Hurt

, Johan 1

Susannah Flood

, Marianne 1

Dallas Roberts

, Johan 2

Roslyn Ruff

, Marianne 2

Arliss Howard

, Johan 3

Tina Benko

, Marianne 3

Erin Gann

, Peter

Carmen Zilles

, Katrina

Mia Katigbak

, Mrs. Jacobi / Mother

Emma Ramos

, Eva