Szenen einer Ehe
Theater für Niedersachsen Hildesheim Hannover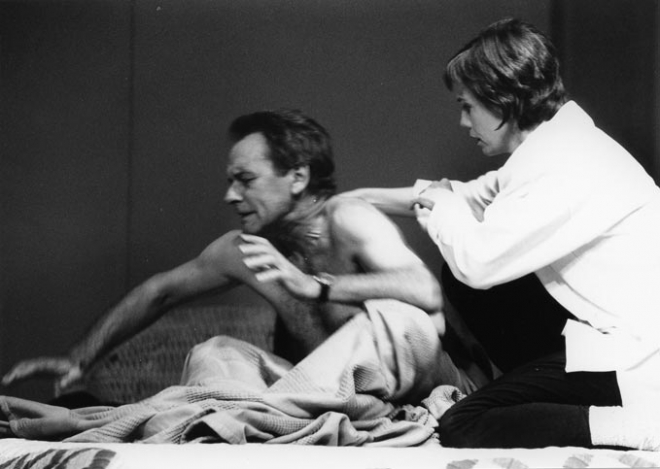 Theater für Niedersachsen Hildesheim Hannover
"So spielt eben das Leben. Grosser Applaus"

Martina Prante, Hannoversche Allgemeine Zeitung
Text
Martina Prante wrote in Hannoversche Allgemeine Zeitung:

The recoginition factor was enormous. Words, phrases, and behavioral patterns lead to startling revelations of joy and laughter. And for that we can thank the director Anette Klare's sensitive handling. She does the analytical Bergman good and makes 'Scenes' more understandable and human.

Gesa Badenhorst and Karl Schmid-Werter were applauded for their intensity and honesty. Badenhorst was also praised for her temperamantal and frappant interpretation of Marianne.
Sources
Martina Prante, Hannoversche Allgemeine Zeitung, 27 October 1997
Gandersheimer Kreisblatt, 6 November 1997
Collaborators
Sabine Göttel

, Dramaturgy

Ingmar Bergman

, Author

Maria Beuger

, Assistant costume designer

Egon Voppichler

, Assistant costume designer

Kay Lautenbach

, Sound

Attila Bazso

, Sound

Andreas Suss

, Lighting design

Reinhold Bernhards

, Lighting design

Hannelore Adler

, Make-up man

Charly Diehl

, Music

Anja Dansberg

, Producer

Anette Klare

, Director

Kerstin Kothe

, Assistant director

Ulrike Kranz

, Props

Silvia Meier

, Props

Petra Knoblich

, Designer

Johannes Niepel

, Carpenter

Claudia Mauerhöfer

, Prompter

Günter Strohmeyer

, Technical manager

Hans-Joachim Maass

, Translation

Fritz Heinrichs

, Painter

Joachim Stief

, Smithery

Anita Klemt

, Decor

Werner Marschler

, Workshop manager

Gesa Badenhorst

, Marianne

Karl Schmid-Werter

, Johan

Elke Reissert

, Fru Palm

Christian Kemmling

, The Photographer

Renate Serwotke

, Katarina Egermann

Hubertus Hartmann

, Peter Egermann

Sibylle Beuttner

, Fru Jacobi