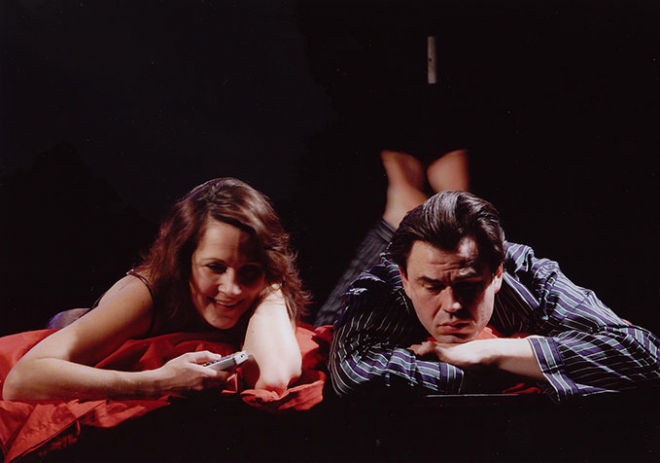 "Marianne de Pury doesn't make Bergman's Scenes from a Marriage into a gloomy Strindbergian family psycho drama, but into an almost cheerful tale about the strengths and weaknesses of human kind and its contra dictionary longing for bourgeois living and self-assertion."

Elisabeth Einecke-Klövekorn, General Anzeiger
Text
The parts of Marianne and Johan were acted by Nadja Soukup and Johnny Müller who received great reviews for their achievements. Elisabeth Einecke-Klövekorn wrote for example: "Nadja Soukup plays a wonderfully nuanced Marianne: heartily raging, defiant in her despair, aware of her attractiveness; in her red suit a rigid business woman, knowing how to get the advantages from her divorce. Johnny Müller is in the part of the ambitious scientist an equal opponent: lovable in his helplessness; a radiantly stupid self deceiver in his mid life ego trip, merciless in his constant understanding."
 
The stage designer Thomas Ziegler had, according to Einecke-Klövekorn, "created a refined, ingenuous stage image consisting of a moving black box functioning as a bed for erotically battles, table for culinary-intellectual fights as well as trial scene for bitter controversies".

Critic H.D. Terschüren was also satisfied with the result: "In short scenes and filmic editing the origin of the drama is made clear. They kiss and they fight. The result is a small, almost elegant, story with a moral: the one who loves loses."
Sources
H.D. Terschüren, November 23, 2007
Elisabeth Einecke-Klövekorn, General Anzeiger, November 23, 2007
Collaborators
Ingmar Bergman

, Author

Christoph Wedi

, Sound

Marianne de Pury

, Director

Nadine Weber

, Assistant director

Thomas Ziegler

, Designer

Uwe Rieger

, Technical manager

Björn Martin

, Translation

Nadja Soukup

, Marianne

Johnny Müller

, Johan