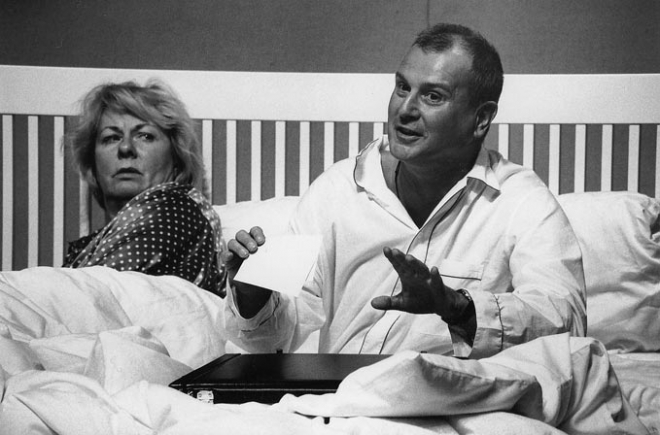 "Glaubst du, dass zwei Menschen das lange Leben lang zusammen leben können? Man sollte Fünfjahresverträge haben. Oder eine Abmachung, von Jahr zur Jahr, die man kündingen könnte." (from the German translation of Scenes from a Marriage)
Text
This production opened in 1998 to mixed reviews.
One reviewer wrote that the matrimonial struggle between Marianne and Johan was both more abstract and friendly in this staging than in the TV-version. Regine Jeske's Marianne did not succeed in reaching the limits of true brutality.

In another review the focus was on the genuine feeling of the couple, a feeling that almost made you forget that you were in fact seated in the theatre watching a play.
Sources
Tomas Petzold, Dresdner Neuesten Nachrichten, 30 October 1998
Ingrid Koch, Freie Presse Chemnitz, 30 October 1998
Collaborators
Ingmar Bergman

, Author

Horst Schönemann

, Director

Peter Gotthardt

, Music

Bend Mahnert

, Designer

Christine Palme

, Make-up man

Robert Perin

, Props

Iris Lehmann

, Prompter

Christian Bechtel

, Lighting design

Bernd Schmeling

, Stage manager

Regina Jeske
Hanns-Jörn Weber