Szenen einer Ehe
Städtische Bühnen Münster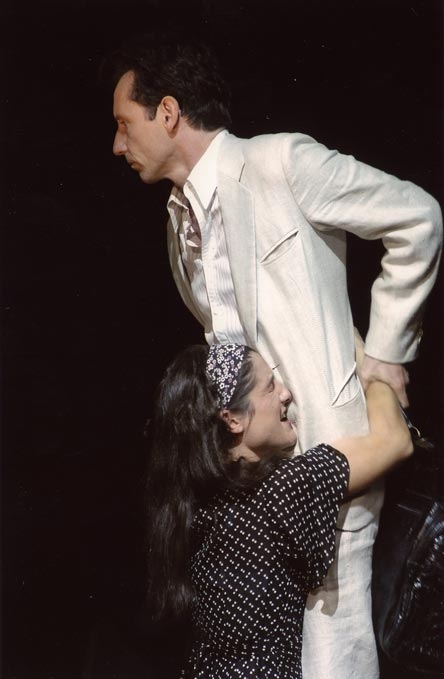 Städtische Bühnen Münster
Text
Helmut Jasny in Münstersche Zeitung:
Ralf Ebeling has a great feeling for the insinuated, for that what is hidden behind the surface. Small, uncontrolled movements, sliding gazes and a mimic not always in correspondence with what's being said reveals more to the spectator than really wanted. You want to call out to the couple on stage. Stop, don't you realise that you little by little are sliding apart?
The critic from Westfälische Nachrichten was impressed by the fact that the text felt so timeless and that the stage version made him forget the film. He writes further,"Ebeling's staging is as sensitive as it is exciting and it is drawn to perfection through the actor's performance."
He especially mentions Stefanie Kirsten in the part of Marianne, who succeeds in characterizing the constant change between anguish, aggression and perplexity when realising the emptiness of her marriage.
Also the Münstersche Zeitung praised Kristen's performance and her credibility in moving between a restrained and passionate acting style.
Sources
Helmut Jasny, Münstersche Zeitung, 15 October 2004
Harald Suerland, Westfälische Nachrichten, 15 October 2004
Collaborators
Ingmar Bergman

, Author

Hans-Joachim Maass

, Translation

Ralph Ebeling

, Director

Jeremias H. Vonrlik

, Designer

Boris Alexander Knop

, Assistant director

Wilfried Gradic

, Make-up man

Stefanie Kirsten

, Music

Monika Van Weyck

, Prompter

Bruno Kolvenbach

, Sound

Jürgen Holzmann

, Sound

Tom Halbig

, Lighting design

Friedrich Kliefoth

, Workshop manager

Helgard Classen-Seifert

, Costume manager

Kirsten Drees

, Assistant costume designer

Jessica Rohmu

, Assistant costume designer

Sergej Bekk

, Painter

Klaus Bussmann

, Carpenter

Wolfgang Sendes

, Smithery

Wilhelm Stohmann

, Decor

Ulrich Jatho

, Technical manager

Renate Terstiege

, Technical manager

Benjamin Kradolfer

, Johan

Christiane Hagedorn

, Katarina Egermann

Johannes- Paul Kindler

, Peter Egermann

Kim Collis

, Eva

Nora Marie Horstkotte

, Mrs Palm