Join us in celebrating Ingmar Bergman!
Ingmar Bergman was born in Uppsala on 14 July 1918 and the Hundred-Year Jubilee – beginning in autumn 2017 and continuing throughout 2018 – takes place over the entire world.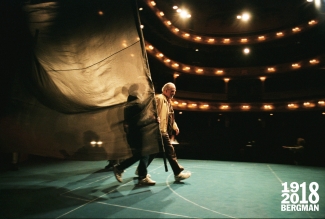 Interested in participating?
We hope that as many people as possible are able to take part in the Jubilee, and we will do our utmost to support and guide prospective organisers who would like to hold a Bergman exhibition, organise a festival, perform a play and so forth. If you're interested, take a look below to get started.
We've created an official logo for use by arrangers, free for use for communication in conjunction with the Jubilee. Likewise, high-resolution images and  introductory texts have been made freely available, and can be downloaded here.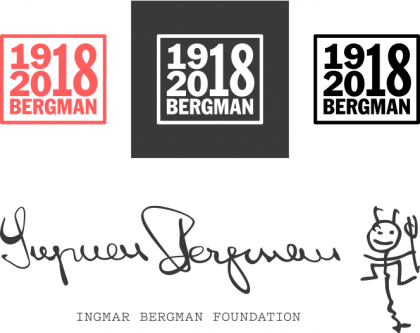 Contact us
The Ingmar Bergman Foundation can help spread information about events through our calendar, newsletter and other channels.  If you're interested in organising an event, feel free to share your thoughts, ideas and plans with us: bergman100@ingmarbergman.se
For questions about performing rights within Sweden, book releases and other licensed uses of Bergman's writings: helene.dahl@ingmarbergman.se or jan.holmberg@ingmarbergman.se. For performance rights in all other territories, please contact Josef Weinberger Ltd.
For information regarding licensed use of Bergman's film works: kajsa.hedstrom@ingmarbergman.se
For questions regarding communication, please contact: asa.jacobsson@ingmarbergman.se
For general questions concerning Ingmar Bergman or the Ingmar Bergman Foundation's activities: info@ingmarbergman.se
The Bergman Estate and Bergman Center on Fårö
Please note that the Bergman Estate on Fårö and the Bergman Center on Fårö are separate entities. Questions regarding their activities should be posed to the respective organisation(s).