Dalarna (Dalecarlia)
Dalarna is probably the very essence of Sweden's nature and culture, not least since the "national romantic" style of the last turn of the century. Swedish tourism iconography is an orgy in Dalecarlia phenomena: the red cabin, the maypole and the Dalecarlia horse.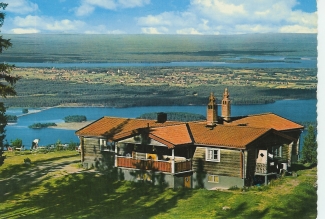 It is hardly a coincidence that when Bo Widerberg felt moved to insult Bergman, he called him "our Dalecarlia horse to the world". In a number of Bergman's films there is an unmistakable 'Dalarna' feel, yet as far as one can see, there are no Dalecarlia horses.

Ingmar Bergman's maternal grandmother had a summer house in Dalarna, in the Duvnäs region of Borlänge. Bergman spent his summers there as a child, and as an adult he would occasionally 'flee' to Dalarna to write and to escape from his family duties. "I grew up in Dalarna. Its rivers, rocky outcrops, forests and moor lands form a landscape that is written deeply in my conscience." When the summer house was sold following his grandmother's death he still continued to pay regular visits to the region. A number of his screenplays from the fifties were written at the Siljansborg Hotel in Rättvik: "I used to stay in a tiny apartment on the top floor overlooking the lake (Siljan)."

The landscape of Dalarna vary, with mountains in the north, framland in the south and lake Siljan in between. The forests have – by Swedish standards, where coniferous trees dominate – an unusually large amount of hardtree wood, in particular of birch. The Virgin Spring, partially shot at Styggforsen north of Rättvik and in Skattungbyn, Orsa, is probably the clearest example of how Bergman's films have been inspired by Dalarna.

Winter Light was also shot in Dalarna, in the Orsa Finnmark area. Filming took place during the short days of November, giving the film a quality of light that Bergman himself described as "extremely gratifying even with its peculiar slant." Both The Virgin Spring and Winter Light had their world premieres in Dalarna, a gesture of gratitude from the director to the region and its inhabitants.

And even though the only exterior shots of The Seventh Seal were filmed in Skåne, the studio-filmed forest scenes show clear influences of Bergman's many visits to Dalarna.