Press
Press releases, written content and high-resolution images can be found here.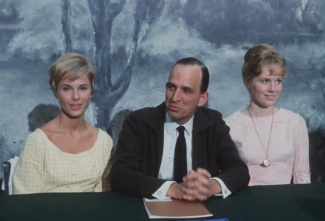 All material featured here may be published freely as a part of content related to the Ingmar Bergman Foundation or the 2018 Hundred-Year Jubilee.
Press inquiries: info@ingmarbergman.se, +46-86 65 11 00
If you have questions about the Jubilee, #Bergman100, contact us at bergman100@ingmarbergman.se or read more here.
The Bergman Estate and Bergman Center on Fårö
Please note that the Bergman Estate on Fårö and the Bergman Center on Fårö are separate entities. Questions regarding their activities should be posed to the respective organization(s). 
Press Images
The following stills are available for publication free of charge within the framework of editorial coverage of the jubilee. On publication, copyright must be acknowledged as © AB Svensk Filmindustri. The still from Persona is available for download here. For the remaining images, please contact asa.jacobsson@ingmarbergman.se.
For rights concerning other images, please contact: rightsdepartment@sf.se.
Logos and portraits of Ingmar Bergman are available for download here.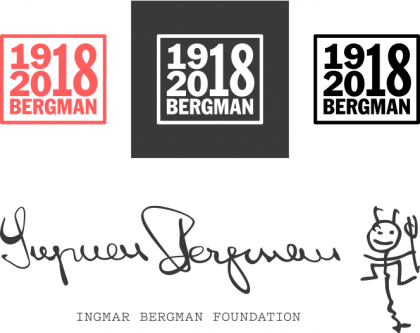 Press information:
About the Ingmar Bergman Foundation
The Ingmar Bergman Foundation was created by the initiative of Ingmar Bergman himself in 2002. The mission of the foundation is to administrate the Ingmar Bergman Archive and to spread information about Ingmar Bergman and works. The Foundation is furthermore engaged in promoting interest in, and knowledge about Swedish film and culture. The Ingmar Bergman Archive is one of the world's largest personal archives for an individual filmmaker, and was included in UNESCO's World Heritage List in 2007. Additionally, the Foundation owns the performing rights to Bergman's scripts.
About #Bergman100
The year 2018 marks 100 years since the birth of Ingmar Bergman: world-famous filmmaker, legendary theatre director and exceptional writer. After his passing in 2007, Bergman has furthermore become one of Scandinavia's most-performed playwrights. Ingmar Bergman was born in Uppsala on the 14th of July, 1918, and the Jubilee, starting in Autumn 2017 and continuing throughout 2018, will take place over the entire world, with theatrical performances, exhibitions, documentaries, film retrospectives, book releases and festivals.
About Ingmar Bergman
World-famous filmmaker, legendary theatre director and exceptional writer. Ersnt Ingmar Bergman - born on the 14th of July, 1918 in Uppsala, died 30th of July, 2007 on Fårö – was a Swedish film and theatre director, scriptwriter, theatre manager, dramatist and author. Bergman made over 60 films and more than 170 theatrical productions, and authored over a hundred books and articles. Among his most famous works are the films The Seventh Seal, Wild Strawberries, and Persona, as well as his written autobiography The Magic Lantern.