After the Rehearsal
(Efter repetitionen)
Year: 1984
Cast: 1 male, 2 female (additional casting: 1 boy, 1 girl)
Set: Interior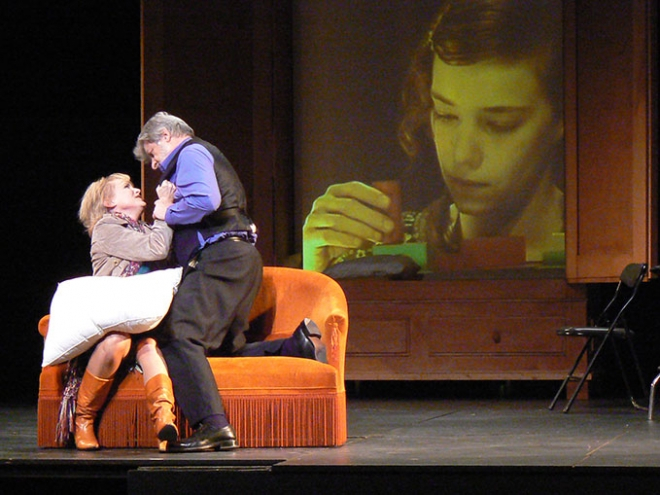 (Efter repetitionen)
Year: 1984
Cast: 1 male, 2 female (additional casting: 1 boy, 1 girl)
Set: Interior
'The question could be posed. This is like a nocturnal cantata: nothing is more beautiful than Bach, even if it's less fun than Offenbach. You decide.'

– Le Figaro, 1997 (on the Théâtre de la Renaissance production)
Ageing director Henrik Vogler sits alone in the theatre, as he often does, following an afternoon rehearsal of Strindberg's A Dream Play. Anna, who is playing the lead female role, returns unexpectedly and begins to reminisce about her late mother, Rakel, who was herself once Vogler's star and also his lover. Vogler recalls an encounter from the past with the alcoholic Rakel, which stirs dormant feelings in the director, and Anna confesses the real reason she has returned.
After the Rehearsal is a far-reaching meditation on life and theatre and the connections between the two.

Notable productions
Théâtre de la Renaissance, 1997 (dir. Louis-Do de Lenquesaing)




Paris production starring Anna Karina as Rakel.


 

Compagnia Lavia, 2002 (dir. Gabriele Lavia)




After its premiere at the Teatro Stabile, Genoa, the production went on an extensive Italian tour visiting Naples, Venice, Rome, Bologna, Florence, Milan, and Ravenna.


 

Toneelgroep Amsterdam, 2012 (dir. Ivo van Hove)




Staged as a double bill (where Persona follows in the second act), the production opened in Amsterdam and has since toured at e.g., the Barbican Centre in London, The Royal Dramatic Theatre in Stockholm, and the Kennedy Center in Washington, D.C.