The Petrified Prince
The musical production of the The Petrified Prince is, just as in the case of A Little Night Music, based on a Bergman script.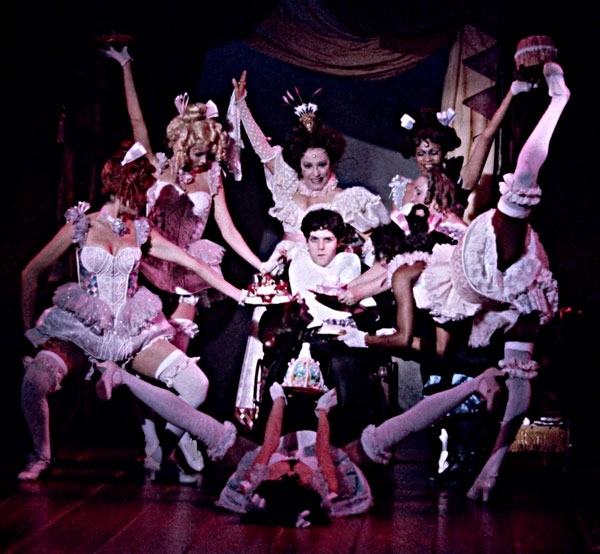 The musical production of the The Petrified Prince is, just as in the case of A Little Night Music, based on a Bergman script.
"The Petrified Prince, adapted from an unproduced screenplay by Ingmar Bergman, is a lumpy, sweet-and-sour stew that seems to have been concocted from a host of clashing intentions."

Ben Brantley, New York Times
Text
In this case Bergman himself considered the unproduced script terminated in 1977 when he drew a cross on the script, adding the text "Buried on August 16, 1977. Never lived."
Seventeen years later Michael John LaChiusa's musical opened on Broadway. The Petrified Prince was directed by Harold Prince – the man behind the very first stage opening of A Little Night Music – and it was met by mixed reviews. Ben Brantley in New York Times asked the question: "how can so much talent, so much flashy stagecraft and so much conspicuous effort come to so very little?"

He found that the production "careers numbly between acrid cynicism and the stickiest sentimentality. One moment it is sending up the cliches of conventional musicals; the next it positively wallows in them." According to Brantley the actors were "trapped between parody and earnestness, all settle for a flat middle ground of performance", resulting in: "the fact that nearly every emotional and comic punchline goes limp." He also stated that Candy Buckley "plays the Queen in the prosaically nasty manner of a soap-opera vixen", in an overblown diva role that he considers at least "should have guaranteed a camp cult audience". The director's daughter, Daisy Prince, performed the part of young Elise and Brantley suggested that even though her voice was lovely: "she is never allowed to send up her kitschy Julie Andrews persona".
Brantley's weak spot is however the sets of James Youmans: "a wonderful miniature Empire-era theater of a set with a painted audience of Daumier-like figures looking on from boxes at the action below. There is a human altar, made up of singing statues; an animal barge with mechanized, Disneyesque cows and sheep and two carnal Punch and Judy-like shadow plays, performed in silhouette behind a scrim to onstage audiences."

Jeremy Gerard in Variety meant that: "LaChiusa is something of a next-generation Stephen Sondheim – writing lyrics that are witty and literate, and music that moves with beguiling ease from nonmelodic phrases to ripe musical theater ballads and anthems". Unfortunately, he added: "the show's also a campy mess, an over-the-top, over-produced exercise in overkill that nevertheless manages to be a frequently enjoyable tour de force". The production impressed him immensely: "from James Youmans' unending, color-saturated sets on a comically tiny revolve – now a campsite in Bohemia, now a Vienna brothel, now the palace in Slavonia – to Howell Binkley's equally intense and varied lighting and Judith Dolan's gorgeous costumes."

Gerard finally stated that the problem of being over-produced ultimately is over shadowed by the larger issue of taste and " The Petrified Prince is stunted by a director unable to resist showing off, everyone else be damned."
Sources
Ben Brantley, New York Times, December 19, 1994
Jeremy Gerard, Variety, December 28, 1994
Set in 1807 in the sort of Ruritanian kingdom, called Slavonia, the show tells the story of young Samson, a mute, wheelchair-bound prince who inherits the crown of the kingdom when his father dies during rough sex with the evil Queen Katarina, a wildly ambitious former prostitute. The country quickly becomes a target for three greedy predators: the mercenary Pope Pius VII, the Emperor Napoleon and the fiery Roberta, a displaced pretender to the throne living in a Gypsy camp. Recognizing that her only hope of holding on to power is by ensuring Samson's ascension to the throne, Katarina takes him to the Vienna whorehouse she came from, in search of a girl who might succeed where all the royal doctors have failed. And he does indeed fall in love, though it is the infant child of the sweet Elise, who ultimately releases him.
Collaborators
Ingmar Bergman

, Author

Rob Marshall

, Choreography

Judith Dolan

, Costume design

Edward Gallardo

, Libretto

Jim Bay

, Sound

Howell Binkley

, Lighting design

Michael John LaChiusa

, Music

Harold Prince

, Director

James Youmans

, Designer

Loni Ackerman

, Roberta

Gabriel Barre

, Franz

Geoffrey Blaisdell

, General Montesquieu

Robert Blumenfeld

, Judge Scheid

Alan Braunstein

, Napoleon

Candy Buckley

, Queen Katarina

Ralph Byers

, Pope Pius VII

Marilyn Cooper

, Mama Chiaramonte

Alexander Gaberman

, Prince Samson

Timothy Jerome

, Cardinal Pointy

Mal Z. Lawrence

, King Maximillian/Abbe Sebastian/Fernando/Gypsy King

George Merritt

, General Petschul

Judith Moore

, Nursemaid

Daisy Prince

, Elise

Jane White

, Madame Paulina