To the Audience! [Red Riding Hood]
Programme article for Red Riding Hood.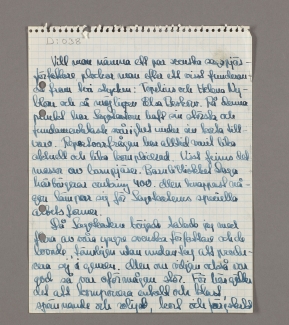 About the text
This text outlines a rudimentary poetics for children's drama:
When we started Sagoteatern, I spoke with several of our younger Swedish writers, and they promised – almost without exception – to help advance and contribute to the genre. Though their intentions were good, their ability to do so was not. For children's theatre is a very different type of theatre: it's imperative to write simply and clearly, that it be exciting and fun, short and colourful.

It's not just about having a prince and a princess, a king, a queen, a monster et cetera and just mashing them all together. With children, it's more important to have a keen dramatic imagination than in any other type of theatre.
D:037
[2] sheets.
+ Guest list for premiere of Red Riding Hood, 4 sheets, + various press materials. 
D:038
[5] sheets.
+ Carbon copies of program and proofs, 4 sheets. 
Red Riding Hood, program notes, Sagoteatern, 1942.