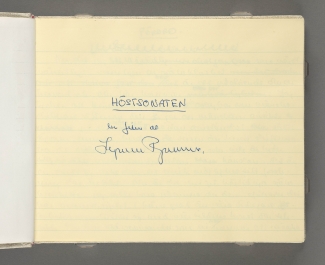 B:137
73 p., bound; 30 x 22 cm
Typewritten director's script.  Diary notes and handwritten pages. Letter from Maurice Bessy, 1977-10-13 kept archive of letters, K:102.
B:139
80 p., ring binder + supplement
Typewritten script. 'Proof copy Aug. 77'. Supplement 1. 'Epilogue', 4 handwritten sheets and one print out, 4 sheets.
B:140
80 p., bound
Typewritten script. On cover: ' This is a first edition of the script, not the one shot.'  
C:018
[153] sheets. ; 18 x 22 cm, bound.
Handwritten script. Fårö 10 August 1976.
F:125
[119] p. ; 20 x 18 cm + supplements
Spiral notepad. On cover: 'The Emotions'. Notes on the tax affair, 31 p. Draft of Autumn Sonata, dated '19.6.76 - Sun. 1 Aug. 1976', 51 p. Notes on acceptance speech, The Goethe Prize, 37 p. 
Not digitized: Letter  'Dear friends and colleagues', about the move from Sweden, 6 sheets, 18 x 22 cm. PM about the tax affair. Typewritten with handwritten notes and signed by IB, 4 sheets, 30 x 21 cm + Handwritten sheet (by Rolf Magrell?, legal counsellor), 2 sheets, 30 x 21 cm
F:126
[64] p. ; 20 x 18 cm
Spiral notepad. Dated: 'Sat. Nov. 8 1975 - 30-3-76.' On cover: 'Love with No Lovers, The Experiment, The Serpent's Egg, Autumn Sonata'. 
F:129
[42] p.; 20 x 18 cm
Spiral notepad. Very cursory diary with drawn devil and skull. Undated letter addressed to  'Dear Ingrid and Liv'. IB gifts them the rights to Autumn Sonata.
Höstsonaten, (Stockholm: PAN/Norstedt, 1978). Translated and published in several languages.