A Beautiful Rose
During the summer of 1943, Bergman was the travelling director, tour and stage manager, fiancé of the choreographer and overall man in charge of 'a play based on a Sven Sköld folk song'.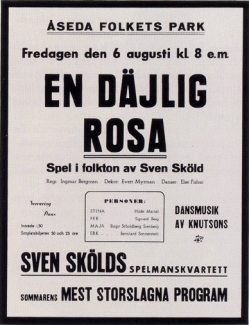 About the production
Bergman had the specific task of collecting Sven Sköld at his hotel and taking him to the outdoor stage. This was during wartime. The actors and backdrop were transported via train.
Sources
The Ingmar Bergman Archives.
Myggans nöjeslexikon: ett uppslagsverk om underhållning, red. Uno Myggan Ericson, (Höganäs: Bra böcker, 1989-1993).
Collaborators
Hilde Marfalt

, Stina

Sigvard Berg

, Per

Birgit Schöldberg-Stenberg

, Maja

Bernhard Sönnerstedt

, Erk

Else Fisher

, Choreography

Sven Sköld

, Music

Ingmar Bergman

, Director

Evert Myhrman

, Designer