Beppo the Clown
Else Fisher wrote, directed and choreographed this pantomime, in close relationship with her future husband Bergman.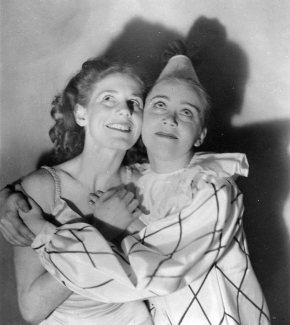 About the production
The production went on tour in May 1944, Curt Edgard replacing Else Fisher in the role of Beppo. In spite of the bad weather during the summer, the play was received well by the critics, who noted the artistry, colorfulness and good spirit of this collaboration between Else Fisher and Ingmar Bergman.
Sources
The Ingmar Bergman Archives.
Birgitta Steene, Ingmar Bergman: A Reference Guide (Amsterdam University Press, 2005).
It was plainly clear that the children in the theatre were enthralled by the happenings on stage, thoroughly enjoying themselves. At the more hilarious moments they nudged one another, full of joy.
- Stig Lidman, Falu-Kuriren
Collaborators
Else Fisher

, Author, Director, Choreographer

Gunnar Lindblad

, Designer

Ingmar Bergman

, Producer

Sture Ericson

, The Circus Director

Karin Håkansson

, Camomilla

Inga Gill

, The Lion Tamer/A Tin Soldier/A Dancer

Randi Fisher

, The Lion/A Tin Soldier/A Slave of Music

Gittan Carlström

, Pelle Jöns/A Chinese Doll/A Slave of Music

Marrit Ohlsson

, The Villain/The Magician/The Pasha