Bo Dahlin's Notes Concerning His Parents' Divorce
Script realised as a film several years later.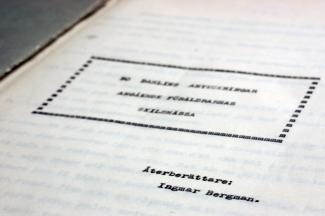 About the text
Though directed by Alf Sjöberg, the film was advertised as a Bergman piece. The student had surpassed the teacher.
In the full title, we see one of Bergman's favourite artistic quirks, namely his penchant for self-reference: "Bo Dahlin's Notes Concerning his Parents' Divorce – As Told to Ingmar Bergman." The first version of this story appears in Bergman's very first writings, and would finally culminate in the film adaptation a few years later.
F:030

87 sheets + Supplement
Typewritten script. Dated: 24.10.1951. Carbon copies in folder. Supplement 1: 7 handwritten sheets.