Christmas/ Advent
This pre-Christmas production represents Bergman's only box-office flop among his dozen presentations in a 2-year-period at Mäster Olofsgården.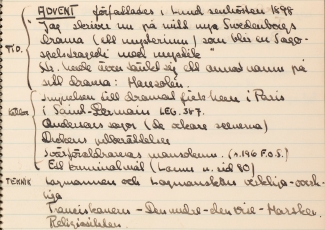 About the production
The play was performed as a part of a Christmas party and the flop was neither the fault of the actors nor, the author, according to one critic.
The play would most certainly have got a different reception had it been performed on an evening set aside for theatre viewing. Instead all were caught up in the great childish joy of Christmas and determined to have a good time. People were not prepared for anything as dramatic as this. A play emphasizing the beautiful joyous time of Christmas and peacefulness would have appealed much more than this typically pessimistic Strindberg play about human struggle and strife.
The unsuccessful presentation of Christmas did not change Ingmar Bergman's invaluable contribution to Mäster Olofsgården's theatre section. Christmas 1939 he was awarded an annual ambulatory prize.
Sources
The ingmar Bergman Archives.
Birgitta Steene, Ingmar Bergman: A Reference Guide (Amsterdam University Press, 2005).
Birgitta Steene, Ingmar Bergman and the Arts, Ingmar Bergman's First Meetings with Thalia (Nordic Theatre Studies, Volume 11, 1998).
Collaborators
August Strindberg

, Author "Advent"

Ingmar Bergman

, Director