The Dance of the Damned Women
Damned women dance in this film by Ingmar Bergman and Donya Feuer.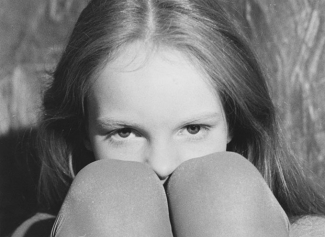 About the film
The film is described as a play for dancers rather than as a ballet. Four women are shown moving round a narrow and closed room. They represent 'generational' women, i.e., women who live by performing roles imposed upon them by women of earlier generations. Two of the dancers are damned souls coming alive, the third is death and the fourth a child, born unspoilt but forced into the pattern of role playing. The dancer who personifies death wears a black hood, not unlike the one Death wears in The Seventh Seal.

The Dance of the Damned Women was shown out of competition at Prix Italia in 1976. When broadcasted in Sweden it was shown twice in the same program spot with a commentary by Swedish art critic Ingela Lind. The idea was to let the viewers assess the dance play first without commentary and then to watch it a second time in a kind of silent dialogue with the commentator.

During shooting Donya Feuer did warm-up exercises with the Fårö-men, among them Bergman's long time associate Arne Carlsson, who were part of the team. The photographer, Lars Karsson, documented this and a selection of his photographs can be seen here.
Sources
The Ingmar Bergman Archives.
Birgitta Steene, Ingmar Bergman: A Reference Guide (Amsterdam University Press, 2005).
Distribution titles
Il ballo delle ingrate (Italy)
Production details
Production country: Sweden
Production company: Cinematograph AB, Sveriges Radio AB. TV2

Aspect ratio: 1,37:1
Colour system: Black and white
Original length (minutes): 84

TV screening: 1976-12-15, TV2, Sweden
Filming locations
Sweden
Dämba, Fårö, Gotland 
Music 
Title: Madrigal, bok 8. Il ballo delle ingrate, SV 167   
Composer: Claudio Monteverdi 
Singer: Dorothy Dorow
Collaborators
Helene Friberg

, The child

Nina Harte

, Dancer

Lena Wennergren

, Dancer

Lisbeth Zachrisson

, Dancer

Sven Nykvist

, Director of Photography

Donya Feuer

, Choreography

Maggie Strindberg

, Costume Designer

Måns Reuterswärd

, Producer

Siv Lundgren

, Compilation

Anne Terselius-Hagegård

, Production Designer

Cecilia Drott

, Make-up Supervisor

Dorothy Dorow

, Singer

Ingmar Bergman

, Producer