The Father
Bergman's declared his first production with a professional cast to be a couple disastrous performances in the Swedish provinces, finishing off in Lidköping.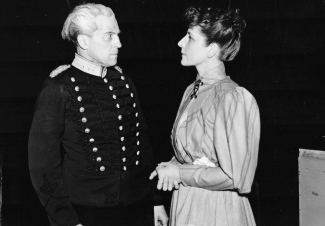 'The performance [...], despite its assets, left much to be desired.'
About the production
Ingmar Bergman in The Magic Lantern: 
A touring actor sought me out, wanting me to produce Strindberg's The Father with himself in the main part. I was to go on tour with them in charge of props and lighting. My intention had actually been to take a postponed exam in the history of literature, but the temptation was far too great. [...] The premiere took place in a small town in southern Sweden. Seventeen people bought tickets in response to our call. The reviews in the local paper were scathing and the company dispersed the next morning, each one of them having to find his or her way home as best they could. I myself possessed a hard-boiled egg, half a loaf of bread and six crowns.
The performance however was an important event for Bergman personally, in that in the summer of 1943 he decided to abandon his university studies and, in spite of his parent's protests, devote his future efforts to becoming a professional theatre director.
Sources
The Ingmar Bergman Archives.
Ingmar Bergman, The Magic Lantern.
Collaborators
Folke Walder
Dagny Lind

, Laura

Margit Schwandt

, Bertha

Harry Philipson

, Doctor Östermark

Edward Danielsson

, Reverend

Marga Riego

, Wet nurse

Rune Bernström

, Wally the Weeper

August Strindberg

, Author

Ingmar Bergman

, Director