Geography and Love
In July 1943 Bergman joined a theatre company which included veteran Erland Colliander, as they took this comedy by Norwegian writer Bjørnstjerne Bjørnson out on the road.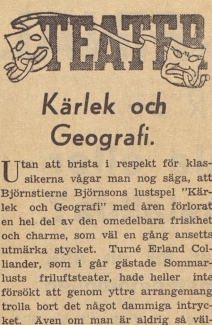 'Pleasant entertainment, skilfully acted throughout.'

Bom, Kristianstad's Newspaper
About the production
Bergman's role as director wasn't the focus of this production, and his name is likewise not mentioned in the majority of reviews.
Collaborators
Erland Colliander

, Professor Tygesen

Ingrid Luterkort

, Karen Tygesen

Kerstin Boström

, Helga

Marianne Lenard

, Birgit Römer

Hugo Tranberg

, Professor Turman

Sture Djerf

, Henning

Edith Svensson

, Malla

Sif Ruud

, Ane

Bjørnstjerne Bjørnson

, Author

Ingmar Bergman

, Director