Hedda Gabler
Bergman produced a near replica of his 1964 Royal Dramatic Theatre staging in London, with an unfortunate Maggie Smith in the leading role.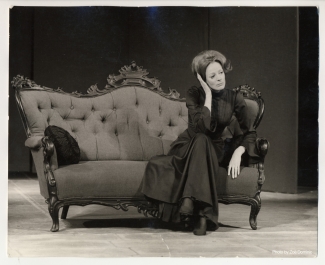 'Hedda in London was not a good production. All the rehearsals were plagued. I despise London.'
About the production
This was Bergman's first production outside Scandinavia. In England, Bergman met actors with a different rehearsal routine than in Scandinavia. 'Their professionalism and speed frightened me a little. […...] They had learned their lines by the first rehearsal. As soon as they had the scenery, they started acting at a fast tempo. I asked to slow down a little and they loyally tried to, but it bewildered them'.
A number of reviews sensed a mismatch between director and actress, and complained about the icy coldness of Bergman's vision of Hedda's surrounding.
Sources
The Ingmar Bergman Archives.
Birgitta Steene, Ingmar Bergman: A Reference Guide, (Amsterdam University Press, 2005).
Collaborators
Maggie Smith

, Hedda Gabler

Jeremy Brett

, Jörgen Tesman

Robert Stephens

, Eilert Lövborg

Jeanne Watts

, Juliane Tesman

Sheila Reid

, Thea Elvsted

John Moffatt

, assessor Brack

Julia McCarthy

, Berte

Henrik Ibsen

, Author

Richard Hamer

, Stage manager

Ingmar Bergman

, Director

Michael Meyer

, Translation