The Hotel Room
Bergman causes a 'nude outrage' in Stockholm when a half-dressed actress walks across the stage.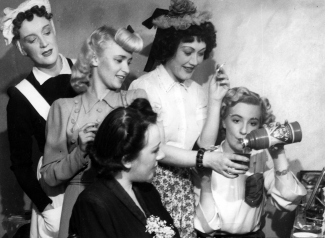 'If the girl had walked slower, the play would have been longer.'
About the production
The play consisted of a series of episodes in a seedy Parisian hotel room. A number of the young actors, including Sif Ruud and Ingrid Luterkort, were praised for their performances, but when a scantily-clad Siv Thulin sauntered across the stage, the evening papers were outraged.
Bergman gained additional media attention when an offended woman in the audience placed a complaint with the Stockholm police department, because she found several indecent scenes in the production, among them one where a girl pulled off her dress, which was followed by a swift curtain fall. Herbert Grevenius, the critic for Svenska Dagbladet shared this view: 'Is there a theatre banned for children? If not, it's about time.'
Sources
The Ingmar Bergman Archives.
Birgitta Steene, Ingmar Bergman: A Reference Guide (Amsterdam University Press, 2005).
With Bergman's production, the Boulevard Theatre gained the reputation as a much needed avant-garde stage in Stockholm. Again, it was the enthusiasm of the young ensemble and the inventiveness of its director that promoted a positive response.
Collaborators
Sif Ruud

, Yvonne

Siv Thulin

, Yvonne / Gaby

Gunnar Nielsen

, Louis / Victor

Estrid Hesse

, Cleaning woman / Lise

Karl-Axel Forssberg
Rune Stylander

, Maurice

Curt Edgard

, Maurice / Jean

Barbro Ribbing

, Berthe

Ingrid Luterkort

, Louise / Catrine

Bertil Sjödin

, Jean / Arthur

Carl Cramér

, Arthur

Monica Schildt

, Marthe

Pierre Rocher

, Author

Ingmar Bergman

, Director

Gunnar Lindblad

, Designer