The Hour-Glass/The Pot of Broth
Bergman staged this double programme of two 'minor', stylised Yeats' plays, presenting them as an exclusive selection.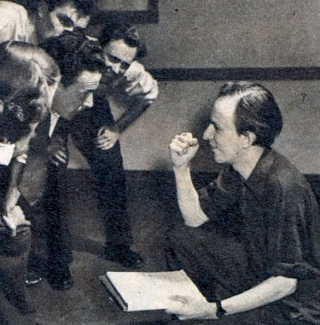 'The motive and dramaturgy in these pieces are similar to others Bergman has previously immersed himself in: Outward Bound, The Hangman and The Man Who Lived Twice; an idealised continuity of existential issues regarding religious, ethereal beauty."
About the production
This double bill was presented as programme III on Mäster Olofsgården's Experimental Stage. This was the last production of the 1938-40 theatre season.
Bergman summed up the year as a good one, filled with calm and intense work, and concludes that both critics and the general public seem to have been satisfied. He reports that the financial situation, though not ideal, had not stalled theatre activity, which had included five full-evening productions and three entertainment programmes: The Crazier, the Better, Professor Putnam's Panoptikon and Pyramus and Thisbe. In addition, the amateur team had studied practically all of Strindberg's dramas containing pantomime exercises, and met for film showings and discussions.
Sources
The Ingmar Bergman Archives.
Collaborators
Sture Djerf
Bertil Sjödin

, The fool (The Hour Glass)

Ingrid Lundgren

, The angel (The Hour Glass)

Gunnel Wiklund

, Bridget (The Hour Glass)

Rune Bernström

, The pupil (The Hour Glass) / John Coneely (The Pot of Broth)

Gun Öijerholm

, Sibby Conneely (The Pot of Broth)

William Butler Yeats

, Author

Ingmar Bergman

, Director