John Gabriel Borkman
Bergman's final production in Munich was of Henrik Ibsen's second to last drama.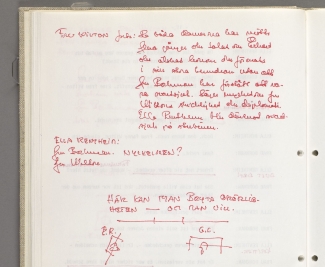 'Ingmar Bergman's noble farewell.'

Headline in the Münchner Merkur
About the production
For this production, a play only rarely performed in Germany, Heinrich Gimmer, dramaturge at the Residenztheater, had done a new German translation that moved between the archaic and modern. Christian symbolic allusions had been omitted. Bergman interpreted the drama as an archetypal 'Faustian' destiny in a middle-class household.
Though Bergman's last production in Munich was politely applauded, the critical reaction was mixed.
Sources
The Ingmar Bergman Archives.
Birgitta Steene, Ingmar Bergman: A Reference Guide, (Amsterdam University Press, 2005).
Collaborators
Hans Michael Rehberg

, Johan Gabriel Borkman

Christine Buchegger

, Gunhild Borkman

Tobias Moretti

, Erhart Borkman

Christa Berndl

, Elle Rentheim

Rita Russek

, Fanny Wilton

Heinz Bennent

, Vilhelm Foldal

Anne Bennent

, Frida Foldal

Heidy Forster

, Chambermaid

Heike Wiehle

, Dramaturgy

Henrik Ibsen

, Author

Hansgeorg Eder

, Stage manager

Ingmar Bergman

, Director

Annette Gassmann

, Assistant director

Gunilla Palmstierna-Weiss

, Designer

Stefan Böhm

, Assistant designer

Svea Köller-Zweig

, Prompter

Heiner Gimmler

, Translation