From the Life of the Rain Worms (Aus dem Leben der Regenwürmer)
Bergman's production of P O Enquist's play on the artist's circumstances and relationship to his/her surroundings was met with a lukewarm reception.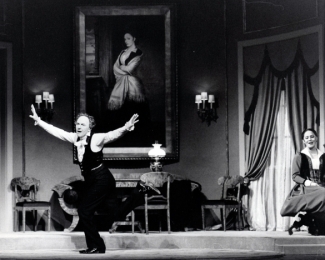 About the production
Reviewers of the Munich production of From the Life of the Rain Worms harshly criticized Enquist's play about a ficticious meeting between two Proletarian artist, the 19th-century Danish actress Johanne Heiberg and fairy tale author Hans Christian Andersen. Writing it off as a set of 'terrible trivialities', 'a clever conversation piece without munch dramatic tension', and 'a series of confession monologues', the critical consensus was that had it not been for Bergman turning a banal piece into brilliant theatre, the play would not have been worth seeing. The opening night audience seemed pleased enough, though, giving standing ovations to Bergman and the ensemble during a dozen curtain calls.
Sources
The Ingmar Bergman Archives.
Birgitta Steene, Ingmar Bergman: A Reference Guide, (Amsterdam University Press, 2005).
Collaborators
Christine Buchegger

, Johanne Luise Heiberg

Horst Sachtleben

, Johan Ludvig Heiberg

Heinz Bennent

, Hans Christian Andersen

Monika John

, Old woman

Heike Wiehle

, Dramaturgy

Per Olov Enquist

, Author

Hansgeorg Eder

, Stage manager

Ingmar Bergman

, Director

Annette Gassman

, Assistant director

Marik Vos

, Designer

Stefan Böhm

, Assistant designer

Svea Köller-Zweig

, Prompter

Angelika Gundlach

, Translation