Macbeth
Bergman himself played Duncan 'with blazing eyes' in the first of three 1940s productions of the Shakespeare play.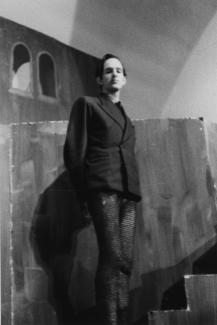 'No Duncan has ever looked so like a goat.'
About the production
Shakespeare is a playwright Bergman returned to time and time again. He staged two additional performances of Macbeth in the 1940s alone: at Helsingborg City Theatre in 1944 and in 1948 at Gothenburg City Theatre.
As he was preparing his first staging of Macbeth, he wrote in SFP-bladet:
In my opinion, the pleasure of this piece lies in its combination of sharp psychological analysis, the tale's gruesome, marvellous tone and the criminal suspense and logical stringency, making for a genius piece of drama.
Bergman regarded the play as a dark tale, yet never voiced any connections to the world at large or Nazism in particular. In his 1944 production, however, he changed all that, writing in the programme notes that his interpretation of Macbeth is as an anti-Nazi piece.
Numerous collaborators in the play were drafted, requiring laborious efforts to convince the numerous military captains to grant these individuals permission to remain in order to stage the premiere. Nonetheless, the play was held as planned and was staged at Flickläroverket (Girl's Secondary School) in Stockholm. Even at this early stage in his career, Bergman displayed an ability to work with the set designers to create expressively impressive backdrops, which worked hand in hand with the acting and direction. The stage design, under the direction of Ruben Zehlén and Torsten Ohlsson, impressed many of the critics. When Bergman staged Macbeth in Gothenburg in 1948, he used the same set design.
Sources
The Ingmar Bergman Archives.
Bergman, The Magic Lantern.
Henrik Sjögren, Lek och raseri: Ingmar Bergmans teater 1938-2002, (Stockholm: Carlssons Bokförlag, 2002).
Margareta Wirmark (red.), Ingmar Bergman film och teater i växelverkan, (Stockholm: Carlssons Bokförlag, 1996).
Although not a professional production, Bergman's Macbeth was widely reviewed. It was variously described as thorough, with a surprisingly high degree of acting ability. There may have been deficiencies in use of the voice, and one reviewer thought that the Stockholm accent was perhaps somewhat out of place, but the overall impression was positive. This was not least because the young Bergman displayed an obvious talent, and a good deal of thought had clearly gone into the direction.
Ingmar Bergman has a sound grasp of the content and a sure eye for the stage performance. Those who saw his simple chamber pieces some years ago will be happy to see him under more demanding circumstances, where his talent clearly makes itself felt. Ingmar Bergman understands the theatre. -Helge G. Hane, Mäster Olofsgården's monthly magazine.
And Oscar Rydqvist in Dagens Nyheter remarked,
The young director is an unequivocal talent, and there is a truly directorial sense behind his staging of this play, which seeks to lift the tragic conflicts of Macbeth and Lady Macbeth from a chronicle play and decorative drama to the transition from the Middle Ages to the Renaissance.
Collaborators
Torsten Torestam

, Malcolm

Arne Forsberg

, Donalbain

Curt Edgard

, Macbeth

Lennart Lindberg

, Banquo

Olle Brunell

, Fleance

Bertil Sjödin

, Macduff

Sture Djerf

, Rosse

Veine Persson

, Porter

Rune Bernström

, Servant

Maud Sandvall

, Lady Macbeth

Eva Asplund

, Maid

Anne-Marie Sandberg

, Witch 1

Ingegerd Vetter

, Witch 2

Essie Richter

, Witch 3

William Shakespeare

, Author

Rune Ede

, Musical arrangement

Ingmar Bergman

, Director

Ruben Zehlén

, Designer

Torsten Ohlsson

, Designer