A Matter of the Soul
One-act play written by Bergman (originally a refused filmscript) about Victoria, a middle-aged woman who is tormented by her loneliness, the monologue was given by actress Jane Friedmann and the play was also published as a novel in Performances (2000).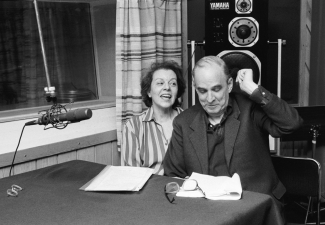 About the production
Bergman had written this radio monodrama in 1972. Years later a radio production of it was scheduled for the fall of 1988, but when the head of the theatre section at Swedish Radio, Per Lysander, resigned in protest over an administrative trend to popularize the repertory, Bergman, in solidarity, withdrew the production. [...] The play was finally broadcast two years later. 
Sources
Birgitta Steene, Ingmar Bergman: A Reference Guide, (Amsterdam University Press, 2005).
'I do not want to wake up,' says Victoria. Victoria is a middle-aged woman suffering from loneliness and lack of human contact. She is in a loveless relationship and suspects her husband of infidelity. When he suddenly dies, she seeks refuge at an asylum, where she meets a quiet, secretive little girl. The past and present intertwine, and fantasy and reality are interchanged in this both realistic and dream-like production.
Collaborators
Jane Friedmann

, Victoria

Aino Taube

, Old woman

Ingmar Bergman

, Author

Kia Rudholm

, Stage manager

Bengt Lundström

, Musician (Square piano)

Ingemar Persson

, Technician