Night Light
Scenario for the film of the same title.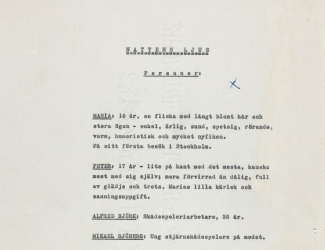 About the text
The director, Lars-Eric Kjellgren, wrote the script for the movie, but Ingmar Bergman helped write the scenario. Bergman's contribution to the film did not appear in the credits. 
B:206
96 p., stapled
Typewritten script, carbon copy. 


B:212
[94] p., loose sheets ; 36 x 23 cm
Typewritten script with a few handwritten notes. 


B:213
[143] loose sheets ; 30 x 21 cm
Typewritten script.