Nora/Julie/Scenes from a Marriage
Bergman's compilation of Scandinavian drama for a German audience included three plays performed on the same evening at two different theatres on the same street.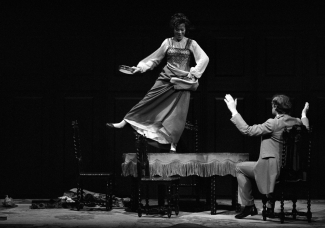 'A fascinating array of parallels.'

Fritz Rumler, Der Spiegel
About the production
Wanting to provide his German audience with a taste of Scandinavian drama and his own roots, Bergman decided to put on three productions concurrently on three different stages. The plays he chose were August Strindberg's Miss Julie, Henrik Ibsen's A Dolls' House (known in Germany as Nora) and his own Scenes from a Marriage. His original idea was that the three plays would be staged in parallel performances on the three stages of the Residenztheater. This was not possible for practical reasons, and instead he produced a heavily re-worked version of Nora which was followed after an interval by Miss Julie. The stage version of Scenes from a Marriage was presented at Marstall. This dramatic triptych was referred to at the Munich Residenztheater as The Bergman Project and was, at the time, intended to be his farewell to Munich.

Bergman was later to produce Henrik Ibsen's A Dolls' House at The Royal Dramatic Theatre in 1989. The earlier Munich production provides pointers as to the interpretation Bergman was to adopt in Stockholm. In it, there was already an emphasis on the erotic, sensual side of Nora.
Most critics saw in Bergman's production a Nora who, right from the outset of the play, was in possession of the insight that eventually prompts her to leave. Nora was presented as a woman fully aware of the conditions imposed on her by society, and of how she could use her feminine talents to come to terms with them. This was a woman with a steady and sober view of reality.
The Swedish national edition of August Strindberg's works had recently been published. In the new edition of Miss Julie, Bergman discovered a reinstated exchange between Jean and Kristin which Strindberg had originally deleted from the script. The exchange describes how Jean had been a witness to Julie humiliating her fiancé in the stables in a horse-breaking game. Twice Julie had struck him, but the third time he snatched the whip from her and rapped her on the cheek.
To hide the red mark, Julie powders her cheeks, and Kristin comments on her white makeup. The discovery of these reinstated lines inspired Bergman to explore new dimensions in the play. In his interpretation, Julie bears the episode in the stable freshly in her mind, and it has a strong effect on her mental state and behaviour throughout the evening. In her cruel interplay with Jean she receives another wound, and the third one, to her throat, is a consequence of the two previous injuries.
On the whole, the experiment was not a great success. Many remarked that there was something almost gimmicky in allowing a director to premiere three plays on one and the same evening.
Sources
The Ingmar Bergman Archives.
Henrik Sjögren, Lek och raseri, Ingmar Bergmans teater 1938-2002, (Stockholm: Carlsson Bokfölag, 2002).
Bernt Olsson och Ingemar Algulin, Litteraturens historia i Sverige, (Stockholm: Norstedts Förlag, 1987).
Henrik Sjögren, Lek och raseri: Ingmar Bergmans teater 1938-2002, (Stockholm: Carlssons Bokförlag, 2002).
Writing in Münchner Merkur, Armin Eichholzatt observed that Nora had been secretly emancipated for some considerable time.
This is revealed in her silk stocking flirtation with Doctor Rank. Nora's tarantella is not merely wild, but a frenzied dance on the table. [...] And when she breaks free from Helmer, her affected charm is finally removed. Seldom has anybody depicted this fall (sorry: rise) so resolutely and convincingly.
A number of critics noted that Nora, in this version, comes across as a woman of inner depths. The traditional view of Nora as some kind of twittering lark, was far removed from this production, which emphasises instead her inner complexity, something considerably more exciting than her 'obvious development'. Bergman also tones down the somewhat wooden side of Helmer 'and gives him a heart', making him also appear as a victim of convention.
In Bergman's interpretation, Doctor Rank is a more complex person that is usually the case. Kaiser, writing in Süddeutsche Zeitung, saw in Doctor Rank an interesting duplicity between decency and decadence, desire and dignity. Without distorting the original, the production was seen as a highly modern interpretation of the play.
After two hours of A Dolls' House, many critics appeared to find it hard to take in a further two hours of Miss Julie. None of them noticed the scar on Julie's cheek, probably as a result of tiredness. The production did not engage them. This may be explained in part by an inability to identify with the Swedish celebration of midsummer.
Gunilla Palmstierna-Weiss' carefully constructed kitchen in accordance with Strindberg's directions was hard to judge for the German critics, one of whom associated it with Carl Larsson. There had also been some misfortune, in that the actress who was intended to play Julie was unable to do so and had to be replaced at the very last minute. This meant that the new actress never had the chance to let her portrayal of Julie mature sufficiently.
Certain critics were put off by Bergman's idea of linking his own play, Scenes from a Marriage, with Ibsen's Nora and Strindberg's Julie. Some felt that the play had worked much better as a film. Writing in Frankfurter Allgemeine Zeitung, Hans Schwab-Felisch noted that:
In the film the wonderful performances of the actors were central, plus the ability of the camera to close in on a scene almost unbearably. Here the difference between film and stage was striking. Left to itself, the text could not achieve what the camera had accomplished.
Collaborators
Robert Atzorn

, Attorney Torvald Helmer

Rita Russek

, Nora

Horst Sachtleben

, Doctor Rank

Annemarie Wernicke

, Mrs Linde

Gerd Anthoff
Anne-Marie Kuster

, Julie

Michael Degen

, Jean

Gundi Ellert

, Kristin

Gaby Dohm

, Marianne

Erich Hallhuber

, Johan

Monika John

, Mrs Palm

Gündüz Bizde

, Photo reporter

Monika Schlüter

, Karin

Patricia Schwöbel

, Eva

August Strindberg

, Author (Julie; based on Miss Julie)

Ingmar Bergman

, Author (Scenes from a Marriage)

Charlotte Flemming

, Costume design (Nora)

Rudolf G. Knabl

, Musical arrangement (Nora)

Gunilla Palmstierna-Weiss

, Designer (Julie, Nora)

Elisabeth Urbancic

, Designer (Scenes from a Marriage)

Peter Weiss

, Translation (Julie)

Heiner Gimmler

, Translation (Nora)

Joachim Maass

, Translation (Scenes from a Marriage)