[Notes on A Dream Play 1986]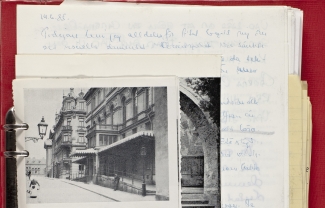 About the text
Director's script for the 1986 production crammed with quotes from Strindberg's letters, photographs and Bergman's notes. 
D:113
344 p., binder + supplement 
Typewritten director's script with interleaved handwritten pages (18 x 22 cm) + Transcriptions of letters by Strindberg + Pages from printed materials with images: "To Damascus" + 12 b/w photographs: "A Dream Play", Svenska Teatern 1907 (ordered from Drottningholm Theatre Museum). Supplement 1: Handwritten cast list,  [2] p. on 1 sheet., 1 postcard "Stockholm. Nybroplan".