[Notes on Yvonne, Princess of Burgundy]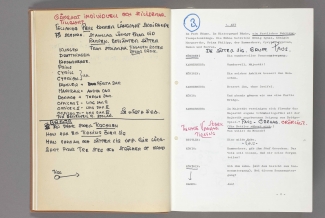 About the text
Director's script with Bergman's notes for the Munich production of Gombrowicz' play. 
D:087
104 p., bound + supplements
Typewritten director's script with Bergman's handwritten notes in Swedish and rehearsal schedule. Supplement 1: 11 costume sketches (fax from KDT). Supplement 2: Handwritten cast list, typewritten cast list, handwritten notes, 4 sheets. Not digitized: Letter from Christine Buchegger postmarked 1980-04-10.