Rachel and the Cinema Doorman: A Play in Three Acts
One of Bergman's few early plays to be both published and performed.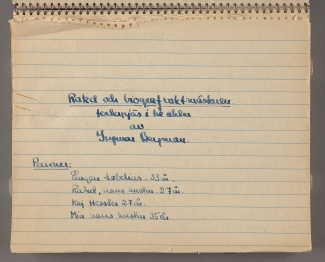 About the text
The play is a Strindbergian marital drama centred around the theme of jealousy, and was performed under Bergman's direction.
After I struck you, Rachel, I took myself outside, dead set on killing myself. I figured that was my only way out of this whole mess. But as it happened, I had a sudden change of heart. It would've been too painless to end it all that way. Too painless for you, I mean. For I can tell you that in my dreams, I've murdered you both, one after the other. Or sometimes I only kill one of you, warmed by the thought of the survivor having to live with the consequences.
E:006
[144] sheets ; 21 x 17 cm
Handwritten script in two spiral notepads, a few loose pages. Not digitized: Letter 1946-06-29 from IB to Radiotjänst, Gunnar Ollén.
E:007
[78] sheets; 29 x 22 cm
Typewritten script. Not digitized: 1 undated letter from IB to unknown recipient. 1 script with letter dated 1951-06-21 from KDT to IB.
Published in Ingmar Bergman, Moraliteter, Stockholm: Bonniers, 1948.