The Rose Tattoo
This guest appearance at Norrköping-Linköping City Theatre of Tennessee Williams' play about Sicilian immigrants was the only Williams' piece with a happy ending.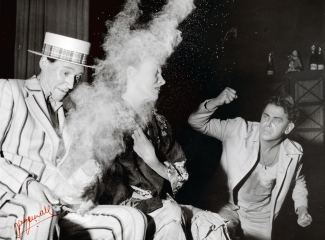 About the production
In 1951, Bergman's play The Rose Tattoo was produced as a comedy in Copenhagen and as a sombre tragedy in Gothenburg. When he guest-directed the play at Norrköping-Linköping City Theatre, he approached it as a farce and altered both the opening and the ending of the original text. Even more drastically, he cut out the crowd scenes depicting an Italian-American scenario.
The performance was re-staged the following summer.
Sources
The Ingmar Bergman Archives.
Birgitta Steene, Ingmar Bergman: A Reference Guide, (Amsterdam University Press, 2005).
The reviews clearly suggest that he had difficulty creating a cohesive performance with a dominant leading lady and a group of actors with whom he had never worked before.
Collaborators
Karin Kavli

, Serafina Delle Rose

Sigrid Kaiser

, Rosa delle Rose (Stadsteatern Norrköping-Linköping)

Åke Engfeldt

, Alvaro Mangiacavallo

Signe Wirff

, Assunta (Stadsteatern Norrköping-Linköping)

John Harryson

, Jack Hunter (Stadsteatern Norrköping-Linköping)

Ulrika Modin

, Estelle Hohengarten (Stadsteatern Norrköping-Linköping)

Kerstin Boström

, Miss Yorke (Stadsteatern Norrköping-Linköping)

Gertrud Danielson

, Flora (Stadsteatern Norrköping-Linköping)

Nine-Christine Jönsson

, Bessie (Stadsteatern Norrköping-Linköping)

Sture Ericson

, Father De Leo

Tore Karte

, The agent (Stadsteatern Norrköping-Linköping)

Louise Bojar

, Guiseppina (Stadsteatern Norrköping-Linköping)

Kerstin Olin

, Peppina (Stadsteatern Norrköping-Linköping)

Ruth Hoffsten

, Violetta (Stadsteatern Norrköping-Linköping)

Margot Ryding

, Assunta (Folkparkerna)

Pia Arnell

, Rosa delle Rosa (Folkparkerna)

Björn Bjelfvenstam

, Jack Hunter (Folkparkerna)

Marianne Nielsen

, Flora (Folkparkerna)

Asta Bohlin

, Bessie (Folkparkerna)

Gösta Bråhner

, Agenten (Folkparkerna)

Birgit Ekstrand

, Guiseppina (Folkparkerna)

Tennessee Williams

, Author

Ingmar Bergman

, Director

Evert Myhrman

, Designer (Folkparkerna)

Carl Cloffe

, Designer (Stadsteatern Norrköping-Linköping)