Rosmersholm: Bergman's adaptation
Bergman's very last work.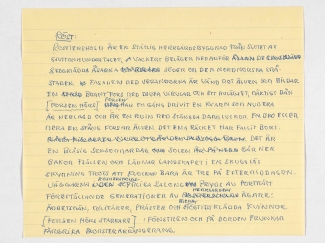 About the text
Bergman rewrote Henrik Ibsen's play for the Swedish radio theatre. He was supposed to direct as well, but didn't have the strength, whereupon Gunnel Lindblom stepped in as director.
E:051
152 loose sheets
Typewritten script with Bergman's handwritten notes and alterations. Handwritten sheet "Voice" glued to the back of the title page.