From Sperm to Spook
Never-performed play where Bergman tries his hand at slapstick.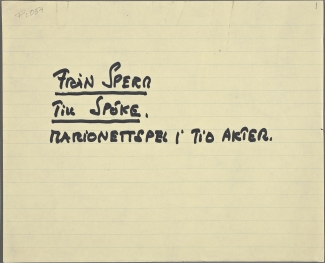 About the text
The play opens with the main character's parents Johan Oscar and Evelina Steinwagen unable to sleep due to the unusually loud emptying of their septic tank by disgruntled workmen, unhappy on account of not having had enough to drink.
Johan Oscar: It feels like my brain is going to squirt out of my ears. God damned septic tank. You know, there are plenty of people who have water closets. Why don't we move to an apartment with toilets that flush? Then those workmen would be free to do whatever they like after getting boozed up. I've made up my mind: tomorrow, we get an apartment with toilets.

Evelina: Lie down and go to bed. It's five o'clock in the morning.
F:054
[64] sheets ; 18 x 22 cm
Handwritten script. Undated.