Storm
Bergman's TV adaptation of Strindberg's play recieved rave reviews.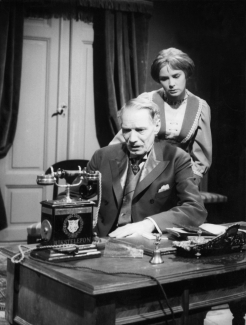 About the film
Bergman's TV adaptation of August Strindberg's play Storm was presented on the 111th anniversary of the author's birth. The production was also shown in Denmark and Norway and received glowing reviews. Bergman was celebrated as an outstanding TV director and was praised for his tact and sympathy in depicting old age, his superior lighting and fine camera work as well as his understanding of the medium in his use of close-ups.

Ingvar Kjellson, who played the brother of the man, returned to the role when Bergman directed the play for the radio in 1999.
Sources
The Ingmar Bergman Archives.
Production details
Production country: Sweden
Production company: Sveriges Radio AB
Original work: Oväder (Play) by August Strindberg

Aspect ratio: 1,37:1
Colour system: Black and white
Original length (minutes): 91
TV-screening: 1960-01-22, TV Sweden, 91 minutes
Collaborators
Uno Henning
Ingvar Kjellson
John Elfström
Birgitta Grönwald
Mona Malm
Gunnel Broström
Curt Masreliez
Axel Düberg
Axel Högel
Erik "Bullen" Berglund
Heinz Hopf
Gittan Gustafsson

, Set Decorator

Yngve Mansvik

, Gaffer

Måns Reuterswärd

, Director of Photography

Sven-Eric Larson

, Director of Photography

Egon Blank

, Director of Photography

Lars Swahn

, Director of Photography

August Strindberg

, Writer

Maj-Lis Heinrich

, Costume Designer

Sune Wall

, Costume Designer

Erland Edwardsson

, Production Mixer

Henrik Dyfverman

, Producer

Gertrude Björklund

, Assistant Director

Ally Seifert

, Script Supervisor

Börje Lundh

, Make-up Supervisor

Yngve Hallberg

, Other Crew

Ingmar Bergman

, Director