The Tivoli
"Film fantasy after Hjalmar Gullberg's poem with the same name," reads the subtitle.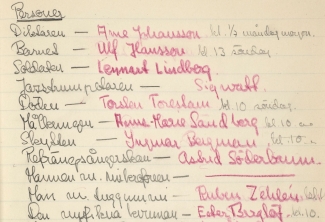 About the text
Bergman's first attempt at adapting Gullberg's poem to film was never realised, though it did result in a play a few years later at Studentteatern. That the subject matter was of particular importance to Bergman is immediately apparent in the short excerpt below, calling to mind a later work:
13. Above the orchestra stands Death, wrapped in his black cloak.

14. Tivoli[:] The chapel of the dance of death on earth, open every Saturday night.
F:001
[22] p. ; 21 x 17 cm
Handwritten draft+cast list. Undated. On title page: "Director: Ingmar Bergman, Photo: Axel Bergström, Cast: Members of the Mäster-Olofsgården's theatre section." Unrealized project.