Twilight Games
Carl-Gustaf Kruuse, ballet manager of Malmö City Theatre, played the leading role as Bergman helped with the script as well as direction in his only ballet production.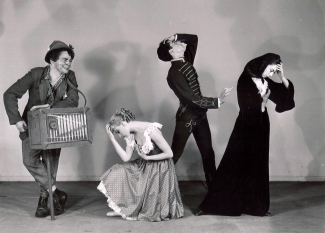 'Forty minutes of uncomplicated pleasure, an appeal to the audience to play along.'
About the production
Twilight Games is a ballet presented in four tableaux, with music by Ingvar Wieslander. As the coreographer Carl-Gustaf Kruuse would be playing the leading role, he asked Bergman to help out with the script and direction.

The first tableau takes place at Haga Castle, with Kruuse assuming the role of Swedish King Gustav III. In the second, Bellman and his muse Ulla Winbladh take centre stage, whilst the third focusses on a pair of well-worn ballet shoes. The final tableau starts off in the printing press of Elvira Madigan and Count Lieutenant Sparre.
Sources
The Ingmar Bergman Archives.
Collaborators
Pauline White

, Queen Sofia Magdalena

Bengt von Knorring

, Carl Michael Bellman

Marianne Mohaupt

, Ulla Winbladh

Jutta Giesecke

, (unknown part)

Ingrid Tönsager

, Pawnbroker

Shirley Roberts

, (unknown part)

Ina Katterfelt

, Tightrope Dancer

Hans Rohde

, Officer

Inga Berggren

, Student

Winfried Krisch

, The Fiancée

Ingvar Wieslander

, Conductor

Ingmar Bergman

, Author

Carl-Gustaf Kruuse

, Author