U-boat 39
U-boat 39, written by a pacifist in 1939 shortly before the outbreak of the war, depicts the aftermath of a submarine accident, with women waiting at the submarine base for information about their loved ones on board the sunken boat.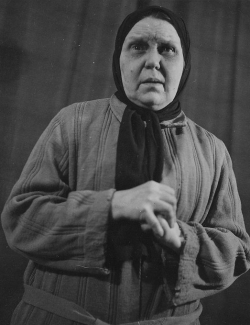 'A young aesthete with more of a sense of style than of what people are made of on the inside.'
About the production
Three days after the premiere, Swedish U-boat Ulven (The Wolf) exploded and 33 people were killed.
Sources
The Ingmar Bergman Archives.
Birgitta Steene, Ingmar Bergman: A Reference Guide, (Amsterdam University Press, 2005).
The consensus among the critics was that Bergman was both artistically and emotionally engaged in Värnlund's play, and challenged by its juxtaposition of individual conviction and collective tragedy.
Collaborators
Dagny Lind

, The mother

Curt Edgard

, The son

Sture Djerf

, The brother

Sally Palmblad

, The girl

Gun Adler

, The girl's mother

Sif Ruud

, The sister-in-law

Ilse-Nore Tromm
Gustaf Hiort af Ornäs
Marianne Lenard
Börje Herner
Anna Tretow

, The first woman

Anna-Stina Osslund

, The second woman

Estrid Hesse

, The third woman

Margareta Sjögren

, The fourth woman

Birgitta André

, The fifth woman

Agnes Svedbäck

, The seventh woman

Karin Lannby

, The eighth woman

Rudolf Värnlund

, Author

Ingmar Bergman

, Director

Gunnar Lindblad

, Designer