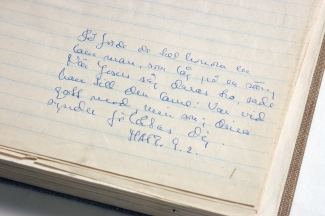 B:031
133 p., bound + supplements ; 30 x 22 cm
Typewritten director's script, begins with 4 handwritten sheets. Supplement 1: Shooting schedule, 2 copies. Remaining exteriors Dalarna, 2 sheets. Supplement 2: Handwritten speech to the audience, 1 sheet, typewritten copy, 1 sheet. 
C:009
[132] sheets ; 18 x 23 cm
Handwritten script. Undated. + Letter to Einar Lauritzen dated 1961-08-18.  FHS from Lenn Hjortzberg with envelope.  
[F:059]
[24] sheets
Unfinished handwritten draft. Undated. No title page. 
In En filmtriologi, (Stockholm: P.A. Norstedt & Söners förlag, 1963). Translated and published in several languages.